Whether you're a regular smoker or a social smoker, a fan of hand-rolled weed or sophisticated tobacco, or perhaps you prefer something a little greener - ashtrays are a must-have item for you. There's something incredibly primitive and crude about flicking your ash into an old beer bottle.
Furthermore, there is a whole world of awesome ashtrays available today that will not only improve your smoking breaks but will also serve as stylish interior decor centerpieces. If you're looking for an ashtray that matches your style, we've got you covered. From simple to sophisticated, silicone to glass, our list of the top 10 cool ashtrays for stoners in 2023 has something for everyone.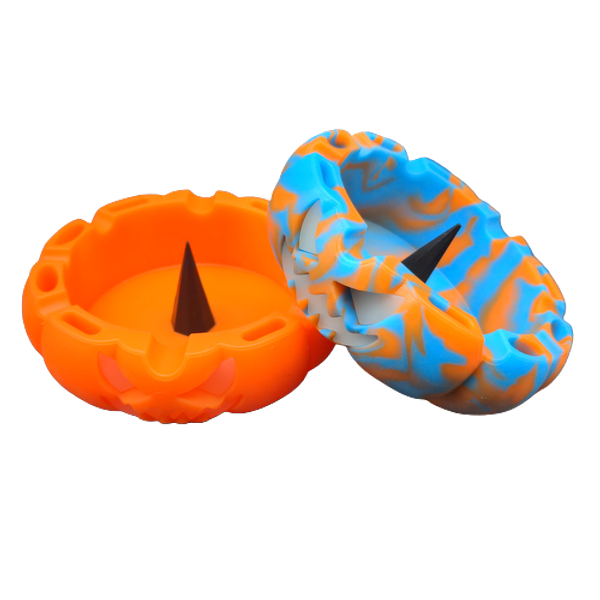 Illuminate your smoking space with the captivating allure of the Glow in the Dark Silicone Pumpkin Ashtray. Immerse yourself in its enchanting design, crafted with the finest heat-resistant silicone, ensuring durability and longevity for both indoor and outdoor use. Let its mesmerizing glow-in-the-dark feature cast an otherworldly ambiance, transforming your smoking experience into a captivating spectacle. With its unbreakable composition and a palette of eye-catching colors, this pumpkin-inspired masterpiece becomes an essential addition to your Halloween decor or a year-round favorite for those who revel in the bewitching and the extraordinary.
Features:
Pumpkin Design

Glow In The Dark

Unbreakable Silicone

Eye-Catching Colors
Indulge in the striking allure of the Gnash Lip Ashtray, a statement piece that demands attention and ignites conversations. Crafted with meticulous artistry and glazed ceramic mastery, this ashtray effortlessly combines elegance and durability in one exquisite creation. Prepare to be captivated by its irresistible design, a perfect blend of contemporary artistry and timeless allure. The bold, open mouth silhouette exudes confidence and sophistication, leaving an indelible impression on all who behold it. Standing at a majestic height of 12.5cm and boasting a width of 10.5cm, it commands attention in any setting.
Features:
All ceramic for easy cleaning
Wide opening
Attractive design
Height 12.5cm, Width 10.5cm, Opening 5cm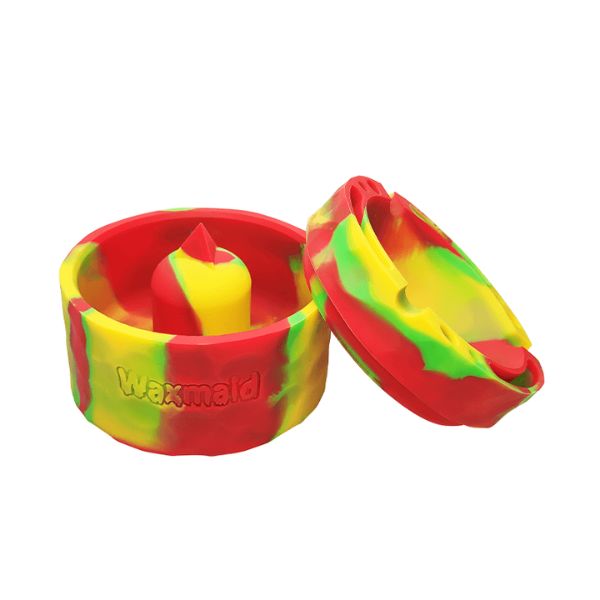 Unveil the extraordinary Waxmaid Pyramid Silicone Round Ashtray, a mesmerizing fusion of artistry and innovation that will leave you spellbound. Prepare to be captivated by its ingeniously designed form, a testament to the endless possibilities of smoking accessories.
Crafted from the finest high-temperature silicone, this ashtray transcends the boundaries of conventional materials. Its bendable nature adds an element of flexibility to your smoking experience, while its remarkable resilience defies expectations, withstanding scorching heat up to a staggering 600°F without a hint of deformation.
Features:
Unbreakable Silicone
WIth Poker
Heat-Resistant
Bright Colors
The OOZE Bangarang Silicone Ashtray is a classic silicone storage system + ashtray that is designed to take your smoking experience to a new level! The Bangarang is an improved version with more storage slots and a removable ashtray!
The new hexagon shape provides even more storage space for all of your tools. To keep your station tidy, keep your dabbers, lighters, rolling papers, batteries, and other supplies neatly stored in the designated spaces around the sides. The round ashtray with a banger to clear your bowl now lifts directly out of the Bangarang, making it much easier to get your gunked-up piece clean and fresh! Available in 5 striking color combinations to match your style.
Features:
Medical-Grade, Heat-Resistant Silicone

Insulated Silicone

Size: 6.25" x 1.75" x 8"

16 Storage Compartments to Store Your Accessories

A Pyramid-Shaped Point in the Middle for Easy Cleaning

5 Colors Available
This creepy Skull Ashtray is a fun decor item that will brighten up a den, man cave, home bar, or entertainment room. It also serves as an ashtray and is sure to spark conversation when guests come to visit. With this ultra-cool skull ashtray, you can add a touch of your out-there personality to any room. The skull is made of polyresin and decorated with an orange and yellow flame design. The top has four openings. The ashtray comes in a gift box, making it an ideal present for family and friends.
Features:
Size: 5" x 4" x 4.5"

Made of Polyresin

Creepy Skull Shape

Vibrant Flame Design

4 openings at the Top
These Cartoon Silicone Ashtrays are the newest addition to your accessory arsenal.
The latest fashion is a very well-made silicone ashtray! Silicone has numerous advantages. For starters, it is virtually indestructible. It's almost impossible not to knock the ashtray over. However, unlike glass ashtrays, the new silicone ashtray will not shatter or break.
Second, silicone is extremely simple to clean. Because tar can stain and smell, many plastic ashtrays quickly become filthy. You can wash it like any other item, thanks to the material, and the odor will be gone in seconds!
Features:
Unbreakable Silicone

3 Cartoon Designs

Sold in 3 Pcs

Rick And Morty Ashtray

Super Mario Ashtray

SpongeBob Ashtray
The Beamer Silicone Ashtray With Holding Slots is the last ashtray you will ever buy. It has three distinct groves and ten different holes and slots for holding items. There are also compartments for tobacco, rolling paper packs, lighters, tools, matches, vape items, and other smoking accessories. It is simple to clean because it's dishwasher-safe, along with being microwave-safe, shatter-resistant, and freezer-safe.
Features:
Made of High-Quality Unbreakable Silicone

Features Slots for Smoking Accessories

Heat-Resistant to 570℉

Dishwasher Safe

Central Pyramid to Clear Bowls and Pipes
With a screw-on cap that keeps the mess inside, the Myster Magnetic Ashtray With Lid makes an excellent portable companion. This magnetic Ashtray is not only compatible with the Myster Rollingtray set, but it can also be used on a variety of metal and non-magnetic surfaces. The magnetic metal base has a spike to help clean your bowls and pipes, and the lid has a place holder for both 14mm and 18mm male bowls as well as an extra ashtray! The screw-on top allows you to close and store the ashes without having to clean them up each time.
Features:
Magnetic Base for Refrigerator, Metal Desks, etc.

Pipe Spike for Cleaning Pipes and Bowls

Bowl Stand (Fits Both 14mm & 18mm)

Roll-Up Stand for Passing Unfinished Blunts/Joints/etc.

2-In-1 Ashtray
This Crystal Ashtray set comes in three different designs, and each set is sold in 6 pieces. These pocket ashtrays feature three different prints with blue, green, and yellow as the background. 
You can put one in the living room, one in the room, one on the balcony... Three indents are well placed to hold your smoke when you want a break. Just a single set is enough to give you years of enjoyable smoking enjoyment. Value for money.
Features:
Thick Hight-Quality Glass

Size: 3" x 3" x 1" Deep

3 indents to hold your smoke 

6 pieces per set
With this one-of-a-kind waste receptacle, you can keep your table and floor clean. Perfect for outdoor and indoor use, the unbreakable silicone piece is resistant to up 600 °F, so don't worry about replacing ​your ​ashtray frequently. The blunted centerpiece facilitates tapping. The silicone ashtray with poker has a leaf design and is suitable for adult birthdays, anniversaries, or any other gift-giving occasion. What's more, the beautiful leaf is dishwasher safe to ease your cleaning process. 
Features:
Dishwasher Safe

Freezer Safe

Shatter Resistant

Microwave Safe

5" x 5"

Built-In Poker

Come in Random Colors 
Conclusion
Ashtrays play a vital role in a stoner's house, from awesome table decor to multi-purpose or just ones that get the job done. It's time to invest in a high-quality ashtray. We hope you like this guide and have found the ashtray you like the best to date!