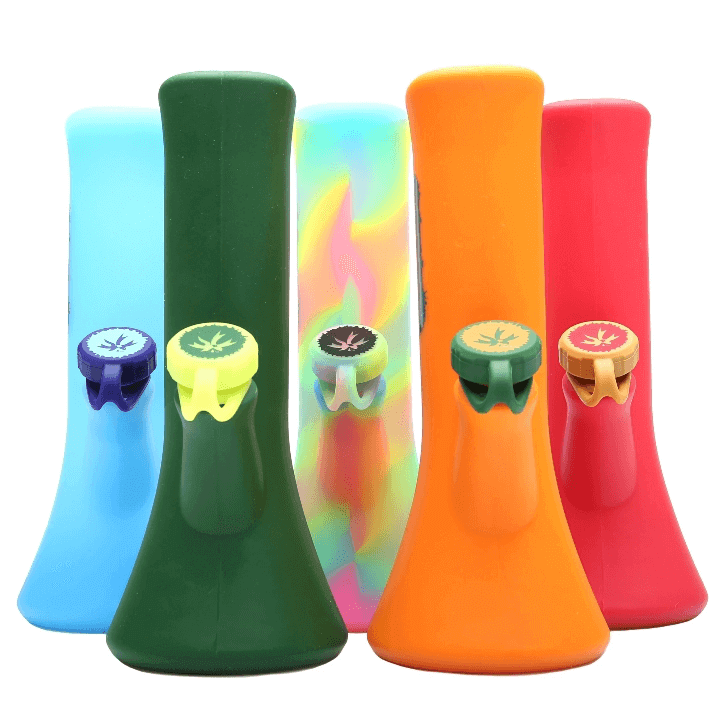 Image from Aqua Lab Technologies
Apart from the health benefits of smoking with a bong, it also adds a personal touch to each of your sessions. Bongs come in all shapes, colors, and sizes, so choosing the best one for you can be a bit overwhelming. Bong-makers are always coming up with new designs and fresh decals, and whether you're shopping for your first bong or for the next one to add to your collection, the decision doesn't get any easier.
While your choice of shape, color, and size is entirely up to you and your preference, you do have to make a few big decisions that might just change the way you smoke. One of these is choosing between getting a traditional glass bong, or a more new-age silicone bong.
If you've never heard of silicone bongs, don't worry! They're a pretty new invention and they're taking the world by storm. They feel quite different from glass bongs, but there's plenty of reason to go for silicone. Silicone bongs are less fragile, easier to clean, and they have very low thermal conductivity, which means they won't get hot during long smoking sessions, and not too cold if you like to use ice for a more refreshing experience.
Are Silicone Bongs Safe For Smoking?
Yes, silicone bongs are absolutely safe for smoking! Over the last few years, silicone bongs have been getting more and more popular because of certain properties that make them ideal for smoking. Here are a few things that make silicone the safe, superior choice:
Silicone is Non-Toxic.
As a material, silicone is completely non-toxic and doesn't react to most chemicals. Make sure your silicone bong is BPA free, because then it'll be so safe it's FDA-approved for food safety.
Silicone is Durable and Elastic.
Unlike glass bongs that are fragile and can break into a million pieces, silicone bongs are practically indestructible. You can drop them, twist them, stretch them, knock them over, fold them, bend them, and more, and they'll still be a bong.
Silicone is Watertight.
Silicone is innately water-repellent, and since there's no way silicone can crack, you're absolutely safe from spills and leaks, too.
Silicone has Grip, but is Non-Stick.
Silicone is especially made to have non-stick properties, so you can rest assured that rosin, tar, and other residues will come off easily. On the other hand, silicone is also designed to grip specific surfaces like glass and metal, making them ideal for bongs which often have glass/metal parts.
Silicone has Antimicrobial Properties.
Since silicone has properties that make it hard for microbes to grow on its surface, Silicone is actually safer than bongs since you won't be in danger of bacterial or fungal growth.
Silicone is Thermally Stable
Glass bongs typically heat up fast because of their thermal conductivity, making it more likely to burn yourself if you're not careful, not to mention the other harmful effects of heat on your lungs and throat. Silicone has very low thermal conductivity, so it'll stay the same temperature even through long smoking sessions.
8 Best Silicone Bongs in 2021
If you're in the market for a new bong, it might be time to make the switch over to silicone. Glass bongs have been around for literally thousands of years, but so have their many caveats. Fortunately, modern technology has made it to the smoking scene, and especially with these eight top-rated silicone bongs, things are shaking up in a big way. Check out these bongs and see the difference that silicone makes in the way you partake.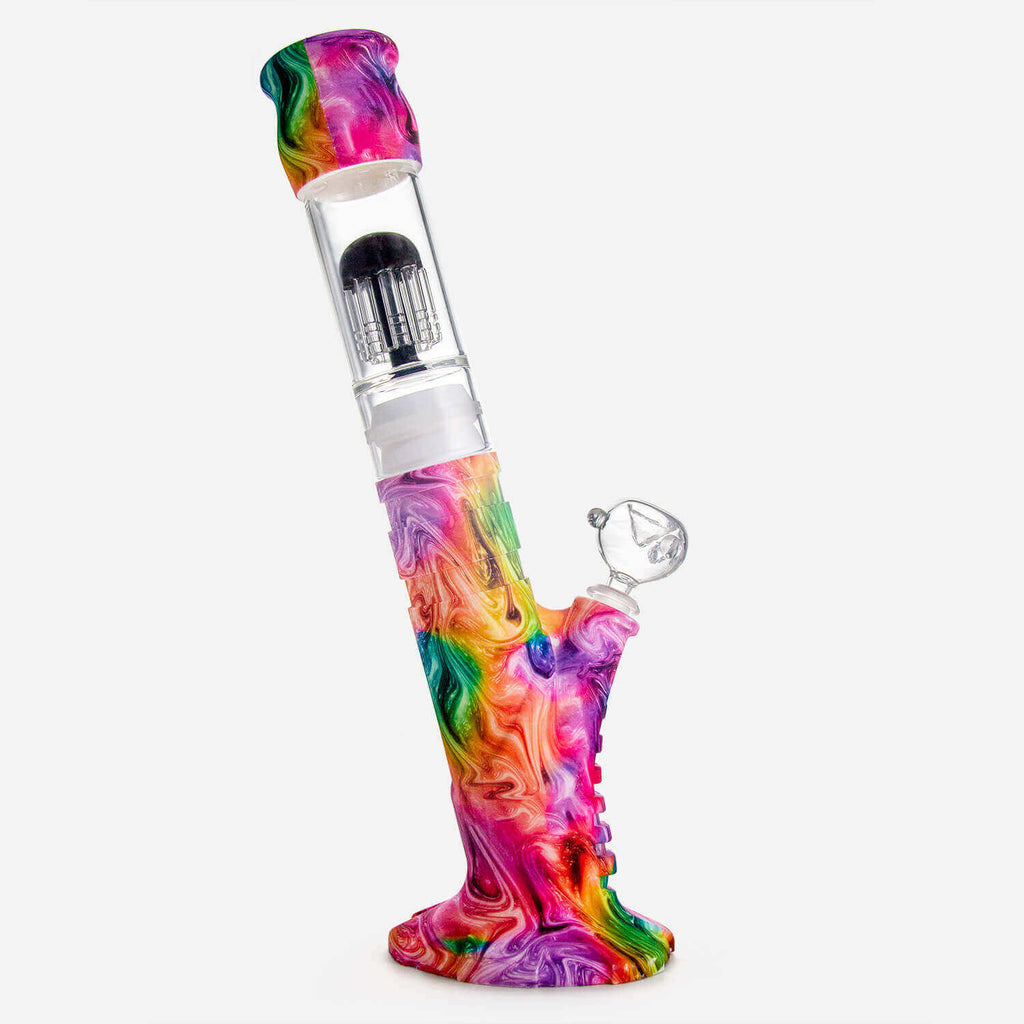 This 15-inch silicone bong is an absolute beauty. At $58.99, the Titled Silicone Water Pipe is a great choice, especially for those getting their first silicone bong. The design and build quality is meant to be reminiscent of a more traditional bong, and the glass centerpiece offers added durability and a familiar feel for those who've always used glass.
Made from high-quality silicone, the Tilted Silicone Water Pipe also has a few great features for any smoking aficionado. The Tree Percolator that sits in the glass centerpiece helps keep smoke smooth and cool, while the added splash guard makes sure that you never have to choke on nasty bong water.
The Tilted Silicone Water Pipe has a 15-inch tilted tube which adds comfort and accessibility for the most laid back smoking sessions. At 4.5-inches base diameter, this bong will sit comfortably on most surfaces. The package includes a bowl and a downstem, but if you prefer to use your own stuff, the joint sizes are 14mm and 18mm female respectively, with 3-inch length on the downstem.
Eyce's been making top-quality bongs for almost a decade now, and the new Eyce Beaker is quickly turning into a silicone classic.
The Eyce Beaker doesn't try to reinvent the wheel. It's a great, quality bong that anyone can get comfortable with right away. It doesn't have any crazy decals or shapes, but what it does have going for it is its superior quality.
That said, the Eyce Beaker isn't without it's own cool ideas. While it may look simple and straightforward at first glance, this bong has a lot of neat hidden features. The base doubles as a hidden compartment where you can stash your herb for convenience and easy access. There's also a rolling tray in case you want to switch it up with some old-fashioned rolling paper.
One really cool thing we love about the Eyce Silicone Beaker Bong is the magnetic ring around the base of the bowl, which you can use to hold your lighter for you -- now that's convenient.
At $69.99 the Eyce Beaker isn't too expensive, so if you're willing to pay a little extra to get a little extra in terms of features and ease of use, then this might be the silicone bong for you.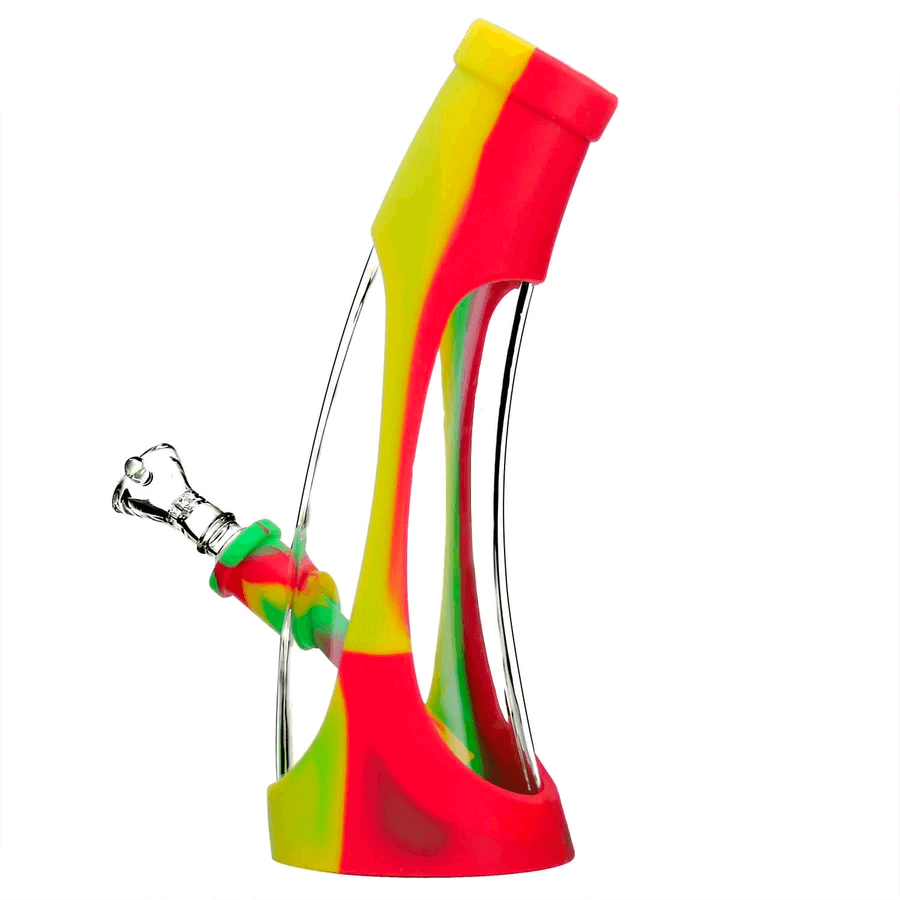 Waxmaid makes some of the coolest smoking paraphernalia, and their latest Silicone and Glass Water Horn is a great choice for people who want a small, portable bong with all the features of silicone combined with all the comfort of glass.
This bong from Waxmaid offers a simpler and more laid-back experience thanks to its shape and form-factor. Standing at only 8.6 inches tall with a thick, tapered tube that curves like a horn, so using it feels more natural since you don't have to hunch over. The tube is made from glass, so it's nice and sturdy, but you're also getting a protective outer layer made of silicone that gives it better grip and thermal stability. The joint is also made from glass, but the downstem is made entirely of silicone, making it a breeze to clean properly.
The Silicone and Glass Water Horn is a great choice for anyone who wants a smaller bong but without compromising on anything else. It doesn't have a lot of cool features, but it's simple and it's easy, and at just $32.99, it's one of the highest-quality bongs you can get.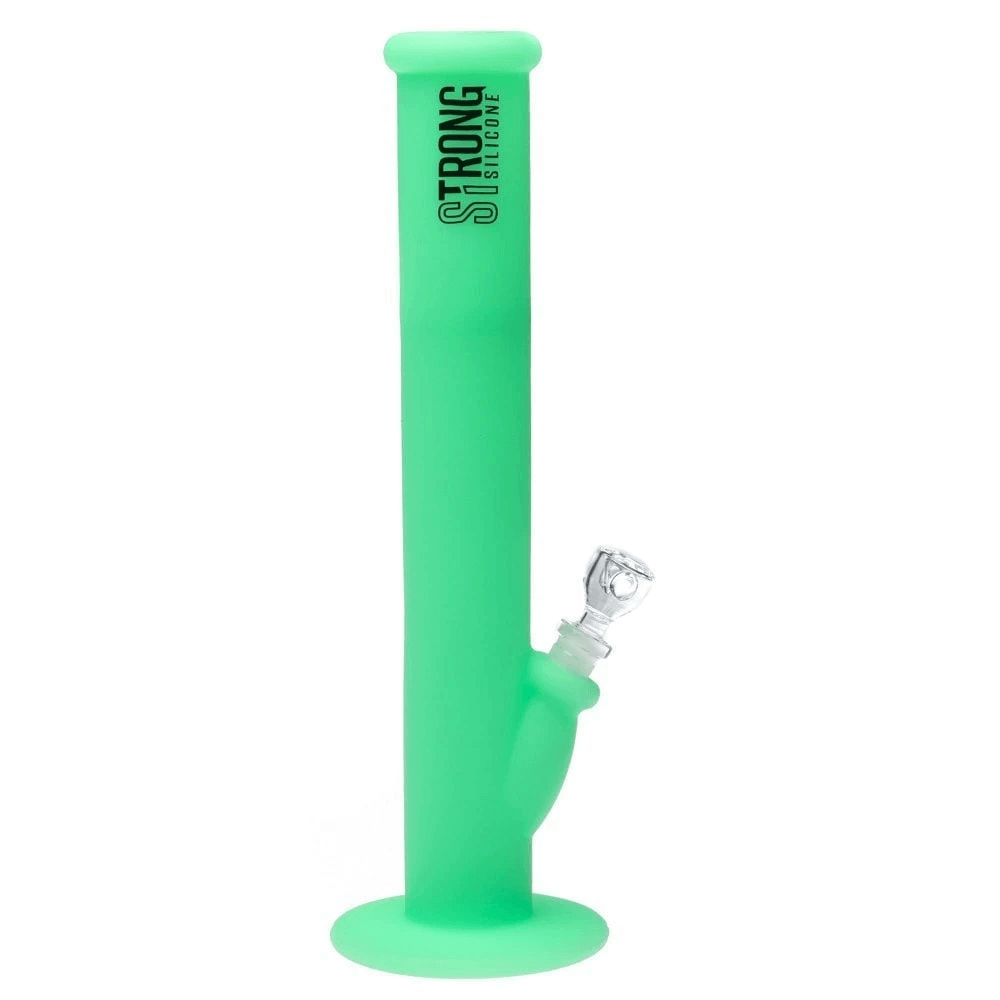 If you love glass bongs, but hate having to relive the traumatic moments of seeing or hearing your favorite bong shatter to a million pieces, then this Strong Silicone Adventurer Bong comes highly recommended. It looks like a regular glass bong, but it's made entirely of bendable, unbreakable, BPA-free silicone. No gimmicks here - just an old-fashioned bong made from space-age materials.
One of the things you'll love about the Strong Silicone Water Bong is its unbreakable construction. Say goodbye to the glass-shattering sound of your favorite bong falling off the table or getting knocked over. When this one hits the floor, it won't even bounce; it'll just lie there until you pick it up. It's bendable, too, and it does an amazing job at retaining shape, so you can fold it and bend it anyway you want for storage or portability.
The Strong Silicone Water Bong stands at 14 inches tall and comes in six colors, although subjectively, we think the coolest one is the glow-in-the-dark After Glow option. It also has a removable splash guard and an ice catcher, with the only glass part being the pull-out bowl with a specially diffused downstem. The base is 4.5 inches wide, and acts like a suction cup for added stability.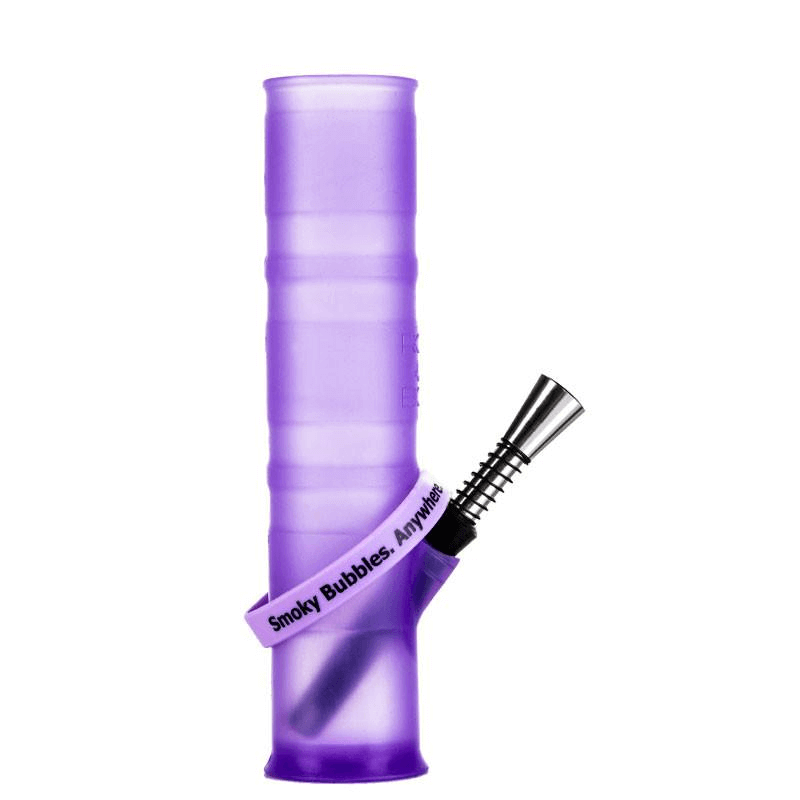 The Roll-Uh-Bowl Silicone Bong is the absolute king of portable smoking paraphernalia, and one of the few bongs that takes the best features of silicone to the extreme. If you love smoking outdoors or on-the-go, the Roll-Uh-Bowl is the absolute best choice for you.
You can take the Roll-Uh-Bowl with you literally anywhere. Opened up and ready to use, the Roll-Uh-Bowl stands at 8 inches tall with a 9mm downstem. It comes with a special alloy bowl and a patented Eject-a-Bowl downstem with a roller ball. But here's where it gets crazy: you can bend and fold the Roll-Uh-Bowl and keep it folded with the included silicone storage band, and it'll fit right in the palm of your hand, or your pocket, or your jacket, or literally anywhere.
All things considered, the Roll-Uh-Bowl is a pretty standard bong when you use it. It doesn't have all the cool features you would want from a best bong, but the Eject-a-Bowl feature works great since you can empty out ash and other residue just by pushing down. At only $32.00, the Roll-Uh-Bowl offers incredible value, especially for those who like to smoke while enjoying nature and the great outdoors.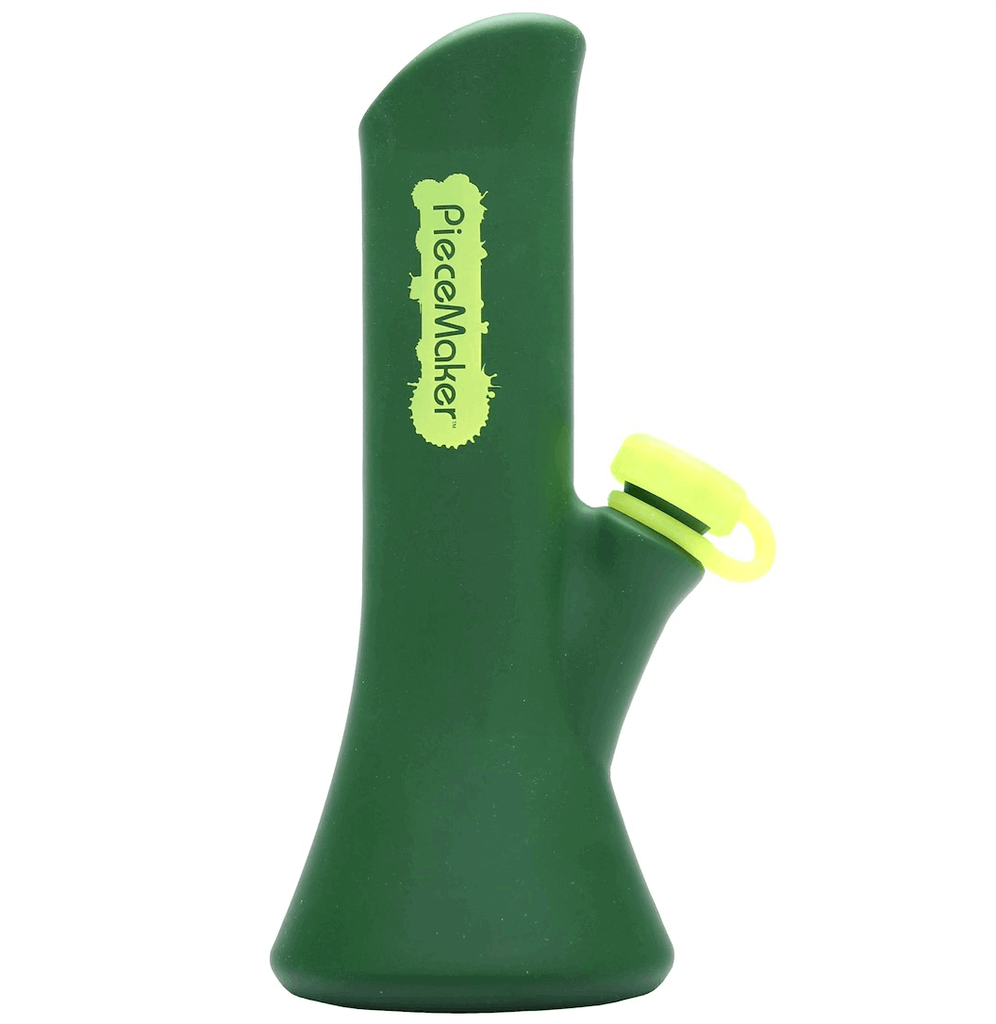 For all the mini-bong lovers out there, we recommend the PieceMaker Kali Go! It's a silicone bong that's an update and revamp to PieceMaker's best-selling Kali bong with a few new features added in to make your smoking experience even better.
One of the most acclaimed aspects about the Kali Go Silicone Bong is the contoured mouthpiece which makes smoking easier and more fun. The carb hole at the back of the bong makes for excellent air flow and lots of bubbles, so you're getting a smooth, full hit every time. It's made from BPA Free, food-grade silicone and is available in lots of different colors, including Glow in the Dark! It comes with a flower bowl made from stainless steel and takes a 4.5 downstem in case you have to replace it. The joint size is a standard 18mm female so you can use this bong with your preferred bowl, if you want.
At $50, the PieceMaker Kali Go isn't the cheapest bong you can buy, and since it's so small, it's easy to overlook the value. However, if you want a small bong that is made from the highest quality materials, then consider the Kali Go!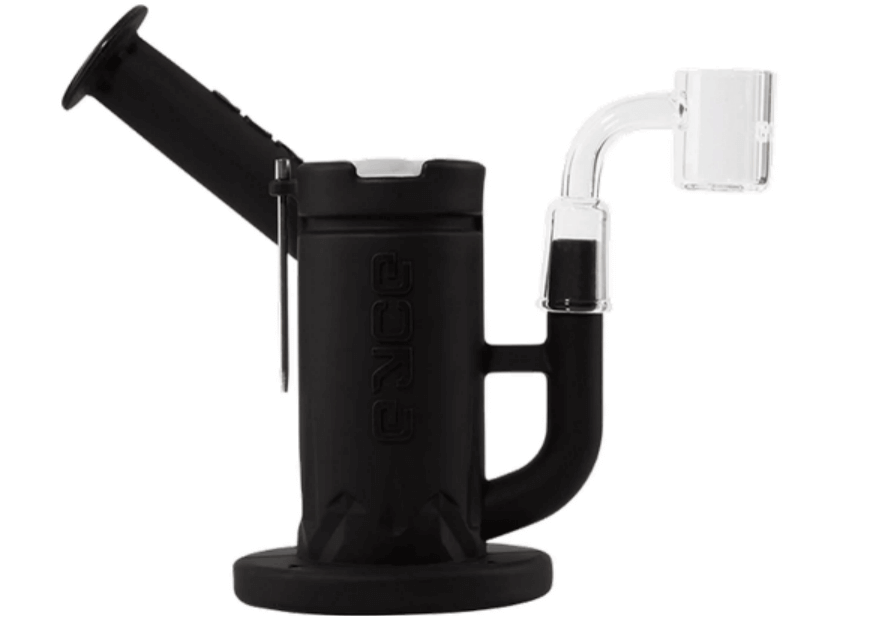 The Eyce Sidecar features a revolutionary design that's definitely off the beaten path when it comes to design and ease of use. Unlike traditional straight tubes, the Eyce Sidecar comes with a rotating neck that you can adjust to however works best for you, making each hit as comfortable and as personal as you can make it.
When you buy the Eyce Sidecar, you're also getting a very high-end 14mm Quartz Bucket instead of your standard bowl. With its built-in dab concentrate container and carb, this bong screams premium.
While the other bongs on this list aimed for simplicity and portability, the Eyce Sidecar is a bong for those looking for a little more luxury for their smoking sessions. At $74.99, the Eyce Sidecar is definitely a high-end option, but if you're willing to pay the high price, this bong is an excellent choice for all kinds of occasions.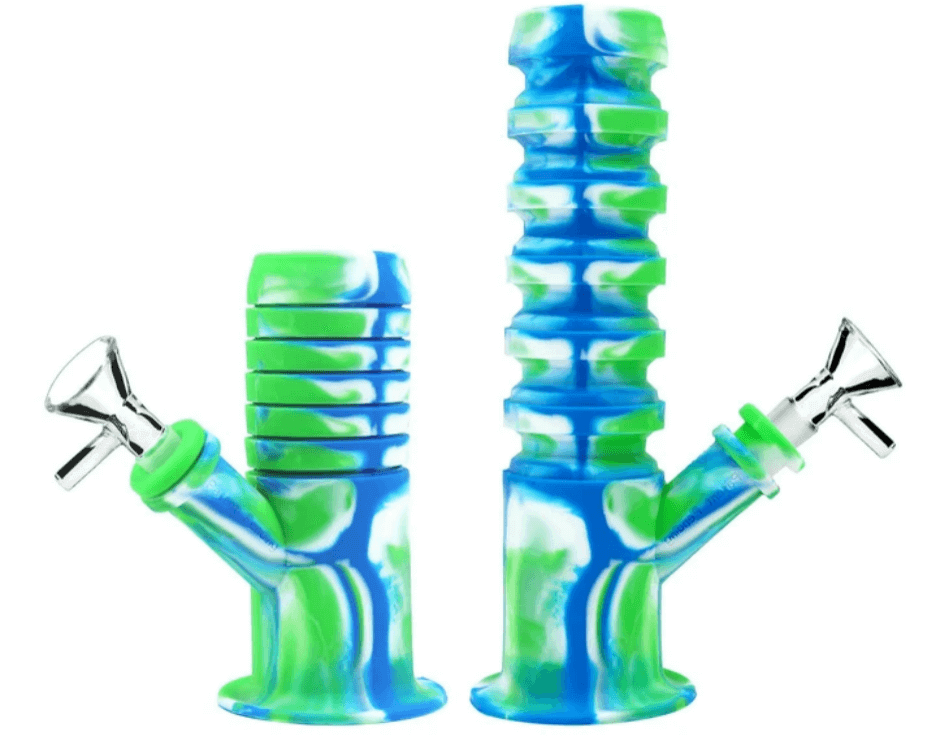 Push it down for easy storage, and pull it out for maximum performance - that's what the Springer Expendable Silicone Bong from Waxmaid is all about. It's fully adjustable, and you can extend the tube in any direction without compromising air flow, making this bong extremely comfortable and fun to use.
Fully extended ,the Expendable Silicone Bong stands at 11.7 inches, cut down to almost half that when fully retracted at 6.7 inches. It's size and portability make this bong a breeze to store and transport, and its extensibility means you can have a full-size bong anywhere you go. It also comes with a magnetic downstem to hold your lighter and other tools.
Since it's from Waxmaid, you're pretty much guaranteed that this bong is made from the best materials. The Springer Expandable Silicone Bong is 100% BPA Free, and is made from FDA Approved food-grade silicone. 
Glass vs Silicone: Which Bong is Better?
There's no denying that glass is a great material for bongs. After all, they've been around for so long that making glass bongs has become an art form, and most people cherish their glass bongs like prized possessions. However, glass is not without its flaws.
For the modern toker, a silicone bong would be a great addition to your collection of paraphernalia. Even if you don't plan on making the switch and ditching glass for silicone, silicone has dozens of advantages over the more traditional option. Silicone is more durable, it's more portable, and it's easier to clean, too. Silicone bongs are easier to carry and store. You don't have to worry about a silicone bong, whereas glass requires careful handling.
So, if you ask us, here's our answer: glass is great, but when it comes down to which bong is best, silicone comes out on top.