Are you ready, kids? I can't hear you! ARE. YOU. READY? inhales deeply Aye, aye, captain!
Welcome to the world of SpongeBob-themed Bongs, where the pineapple under the sea meets the sweet leaf of the land! If you're a fan of the iconic yellow sponge and all things herbal, then you're in for a treat. We've scoured the depths of Bikini Bottom to bring you the top 8 best SpongeBob bongs in the entire ocean.
From Bubble Bowls to Krusty Cones, we've got you covered with the most hilarious and creative bongs inspired by the beloved Nickelodeon character. So, grab your pineapple express and get ready to dive into the world of SpongeBob-themed Bongs!
Ceramic SpongeBob Bong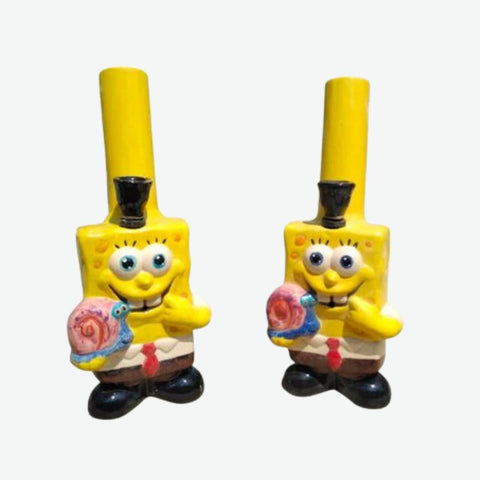 'I'm ready! I'm ready!' Ladies and gentlemen, gather 'round! SpongeBob is ready for Krusty Krab. With a height of 30cm, this bad boy is made entirely of ceramics and painted in SpongeBob's signature bright yellow color. But wait, it gets better!
The bubble features a three-dimensional shape of none other than SpongeBob himself, holding his beloved pet snail Gary in his arms. And let me tell you; this isn't just any old SpongeBob statue - it's so vividly restored you'll feel like you're in the pineapple under the sea with SpongeBob and the gang.
But enough about its killer looks - let's talk about the bubbler action. This bong's got it all - smooth hits, perfect flow, and a bowl big enough to fit your entire stash (well, maybe not your entire stash, but you get the point). And with SpongeBob as your smoking buddy, you know the good times are just getting started. Get ready to blaze it in Bikini Bottom style!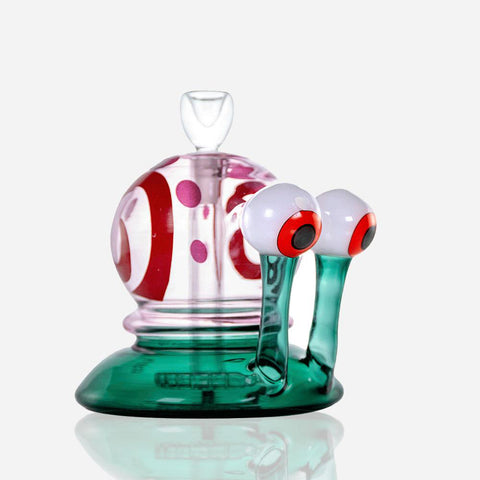 Meow~Who doesn't wanna pet Gary the snail? 
This Gary the Snail Glass Bong would be the ultimate smoking buddy for any Spongebob Squarepants fan! With a thickness of 5 mm, this bong is built to last, and with a height of 6 inches and a diameter of 6 inches, this bong is the perfect size for a quick toke or a long, relaxing session.
This Snail Bong not only restores Gary's shape vividly but also features a creative structure. Its recessed joint is located on the top of the snail shell, which can place a 14mm male flower bowl, and the connected large showerhead perc extends to the bottom of the bong that will filter your smoke to perfection, ensuring you get the smoothest hits possible. And with this peculiar snail eye mouthpiece, you can load up your favorite herb and let Gary take you on a wild ride through Bikini Bottom.
Features:
Height: 6"

Diameter: 6"

Percolator: Large showerhead

Thickness: 5 mm

Recessed Joint

 

14 mm male flower bowl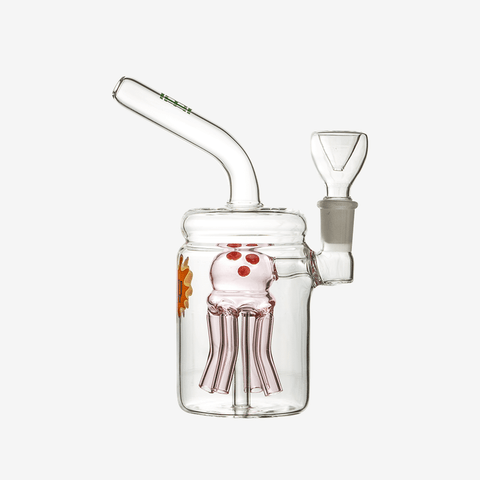 Want some Jellyfish Jam? Let's catch jellyfish with SpongeBob; this bong looks like SpongeBob put the jellyfish he just caught in the Jar; 7-inch tall and features a unique jar shape with a straw mouthpiece, making it the perfect vessel to taste some delicious jellyfish jam.
The Jellyfish Jar Bong is not only a great conversation starter, but it also features a jellyfish-style tree perc, which helps to filter and cool the smoke for a smoother hit. Plus, with a 90-degree joint and a 14mm joint size, this bong is compatible with a wide range of accessories and attachments. So why settle for a boring bong when you can enjoy your favorite herb with a SpongeBob SquarePants twist? Catch some jellyfish and indulge in Jellyfish Jam with the Jellyfish Jar Bong. Order yours today!
Features:
SpongeBob Squarepants themed

Unique Jar shape

straw mouthpiece

Jellyfish-style tree perc

90-degree joint

Flower bowl
Squidward Water Pipe
Well, well, well, if it isn't the Squidward Water Pipe! You can almost hear the clarinet sounds in the background, can't you? This bong is a handmade masterpiece that will take you on a journey to Bikini Bottom and beyond. With a matte texture and a cone base that features a gray ripple pattern, this water pipe is the perfect accessory to help you take your smoking game to the next level. 
But what really sets this bong apart from the rest is the super vivid Squidward mouthpiece. That's right, Squidward himself seems to be unhappy that he suddenly became a bong. But hey, who can blame him? Because Squidward is here to help you get lifted in style. Grab this Squidward Water Pipe and dab your way to the bottom of the ocean. Just be sure to watch out for any jellyfish along the way. Happy smoking!
Features:
Cone Base

Squidward Mouthpiece

Ripple pattern
Sponge Bob Glass Beaker Bong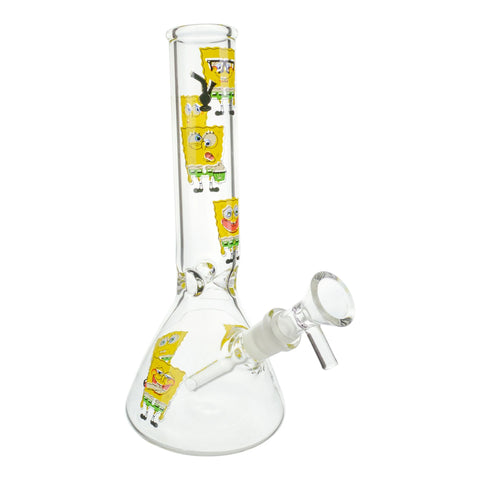 With its classic beaker bong style and durable design, this SpongeBob Beaker Bong is sure to become your go-to choice for every sesh. But what really sets this bong apart are the 7 classic SpongeBob images that adorn the body of the bong. Whether you're a die-hard fan or just appreciate a good cartoon, these images will keep you company during every session. 
Measuring 8 inches tall, this bong is the perfect size for a comfortable and smooth smoking experience. Featuring a 14mm female joint and a downstem length of 2.5 inches, this bong ensures a perfect fit for all your smoking needs. The 3 pinches ice catcher adds an extra level of cooling to your hits, making for a smoother and more enjoyable experience. So why settle for a boring and ordinary bong when you can have the Sponge Bob Beaker Bong? 
Features:
Height: 8 inches 

14mm female joint

Downstem length: 2.5 inches

3 pinches Ice catcher 
Pineapple Glass Bong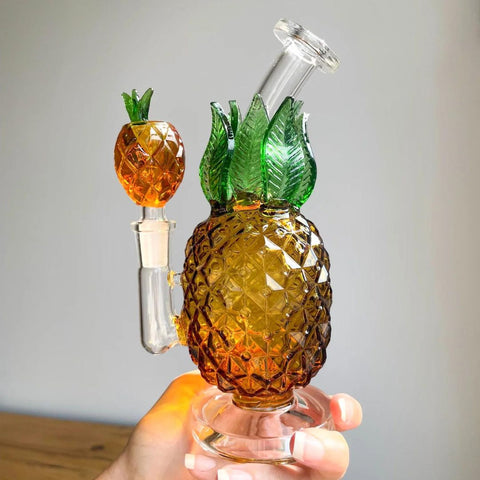 Who lives in a pineapple under the sea, SpongeBob SquarePants! This Pineapple Glass Bong is a must-have for all SpongeBob SquarePants fans! This 11" inch-tall bong is designed in the shape of SpongeBob's iconic pineapple home, complete with a splashguard and downstem resembling the fruit's crown.
Crafted with premium quality glass, this double-ball style bong boasts dual percs: a showerhead and honeycomb, delivering smooth and filtered hits every time. The 14mm male joint is perfect for attaching your favorite bowl or banger. Let's check in at the Pineapple House together today!
Features:
11" Inches Tall

Dual Percs: Showerhead + Honeycomb

14mm male joint
Bikini Bottom Sky Flower Clouds Bong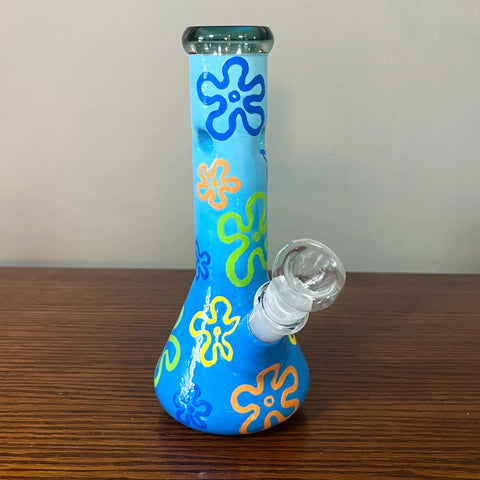 This beaker bong is inspired by the sky of Bikini Bottom, the iconic underwater city where SpongeBob SquarePants lives. The entire body of the bong is hand-painted with Bikini Bottom's iconic flower cloud pattern, making it a true work of art.
Standing around 8 inches tall, this bong is the perfect portable size for taking with you on the go. Plus, it features an ice-catcher and a removable stem, allowing for the coolest hits and customization. And with a 14mm flower bowl included, you'll be ready to enjoy your favorite herb right out of the box with these floating flower clouds.
Features:
Flower bowl

Beaker style

3-pinches ice catcher

Thick glass

Bikini Bottom Flower Clouds
Patrick & SpongeBob Mini Tube Bubble Base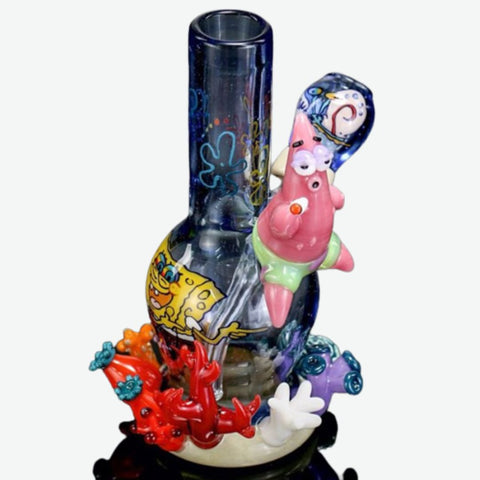 This SpongeBob & Patrick Mini bong presents a vivid Bikini Bottom bouquet scene, making it not just a functional piece but also a stunning decoration for any room. This intricate piece features a Patrick Star pop-up figure decoration, adding a playful touch to the bong's design. The bottle itself is adorned with hand-painted SpongeBob SquarePants; additionally, a Gary the Snail bowl adds an extra layer of charm to the design.
The bottom of the bong is surrounded by a circle of realistic underwater plant decorations, transporting you to the colorful world of Bikini Bottom. A Bikini Bottom flower clouds pattern is also drawn on the bong neck, completing the overall theme of the piece. These artistic creationsProviding endless hours of enjoyment for both fans of SpongeBob and bong enthusiasts alike.
Features:
Patrick pop-up figure decoration

Coral decoration

Gary the snail bowl
Bottom Line
And that's a wrap, folks! We hope you enjoyed our list of the 8 Best SpongeBob Bongs. From the Pineapple House water pipe to the Jellyfish Jar Bong, each of these bongs captures the spirit of Bikini Bottom in its own unique way. Thanks for joining us on this underwater adventure. Until next time, keep it lit, stay bubbly, and as SpongeBob would say, "I'm ready, I'm ready, I'm ready!"