In a world where functionality and aesthetics collide, the search for the perfect cannabis accessory is an adventure filled with excitement and delight. The art of grinding your favorite herbs should be a pleasurable and enchanting experience, one that is enhanced by the beauty and charm of the tools you use. With countless options available, it can be challenging to find the perfect grinder that combines both functionality and whimsical design. 
In this article, we will take you on a wondrous journey through the enchanting realm of herb grinders, exploring 8 of the most captivating, cute, and delightful grinders that will transform your grinding experience into an extraordinary adventure.
First on our list is the enchanting Titanium Blue Herb Grinder. Its captivating hue is reminiscent of a twilight sky, casting a spell on your senses as you grind your favorite herbs. This grinder is not just about aesthetics; it boasts a smooth, effortless, and noise-free grinding experience. The shaped teeth, precisely sized holes, and neodymium magnets provide a powerful bond, ensuring a perfect result every time.
The stainless steel micro-screen filters fine pollen to perfection, and a pollen scraper is included for your convenience. However, please remember not to clean the grinder with your bare hands to prevent scratches. Allow the mesmerizing grinder to elevate your senses and bring a touch of magic to your grinding experience.
Highlights:
Shaped Teeth, Precisely Sized Hole

Neodymium Magnets

Stainless Steel Micro-Screen 

Color: Titanium Blue

Pollen Scraper Included 
Dive into the colorful underwater world of Bikini Bottom with the adorable SpongeBob Grinder. This lovable grinder features a vibrant yellow color and a 4-part design, making it both eye-catching and functional. Measuring 2 inches in diameter and 1.7 inches in height, this grinder is perfect for those who want to add a bit of fun and excitement to their grinding sessions.
The SpongeBob Grinder includes a 4-piece design and a pollen scraper for your convenience. Allow the world's most famous sea sponge to accompany you on your herbal adventures with this delightful grinder.
Highlights:
Lovely SpongeBob Painting

Size: 2″ D * 1.7″H

4 Parts

Pollen Scraper Included 
Unleash your grinding prowess with the FONZ Store & Go Herb Grinder! Compact, portable, and palm-friendly, this game-changing grinder revolutionizes on-the-go herb grinding. Don't be fooled by its size; the FONZ holds over 1/10 Oz of your favorite herbs, making it an unbeatable travel companion. And as a bonus, each FONZ comes with a matching case to ensure your herbs stay fresh and sealed. Meticulously crafted in Israel from reinforced plastic, this patented, shatterproof manual grinder is engineered to withstand the test of time.
Highlights:
Fits perfectly in your pocket or palm of your hand
Hold 1/10 Oz of herbs
Comes with a matching case
Made in Israel using reinforced plastic
Bring a touch of interdimensional adventure to your grinding sessions with the Rick & Morty Grinder. This green aluminum alloy grinder measures 2 inches in diameter and 1.7 inches in height, offering an ideal size for portability and convenience. The 4-part design ensures that your grinding experience is smooth and efficient, while the iconic duo's presence adds a touch of humor and excitement.
Highlights:
Aluminum Alloy

Mad Rick Painting

Size: 2″ D * 1.7″

4 Parts
Unleash your inner puzzle master with the Infyniti Aluminium Rubik's Cube Grinder. This unique grinder features a cube design and measures 50 x 50 x 50 mm, making it visually intriguing and functional. The 4-part steel construction ensures durability and a smooth grinding experience, while the easy-to-use handle adds an extra layer of convenience.
This one-of-a-kind Rubik's Cube Grinder is perfect for puzzle enthusiasts and cannabis connoisseurs alike. Allow yourself to be captivated by the mesmerizing design and embark on an unforgettable grinding journey.
Highlights:
4 Parts

Wooden Cover

Diameter: 2.4"

Height: 2.5"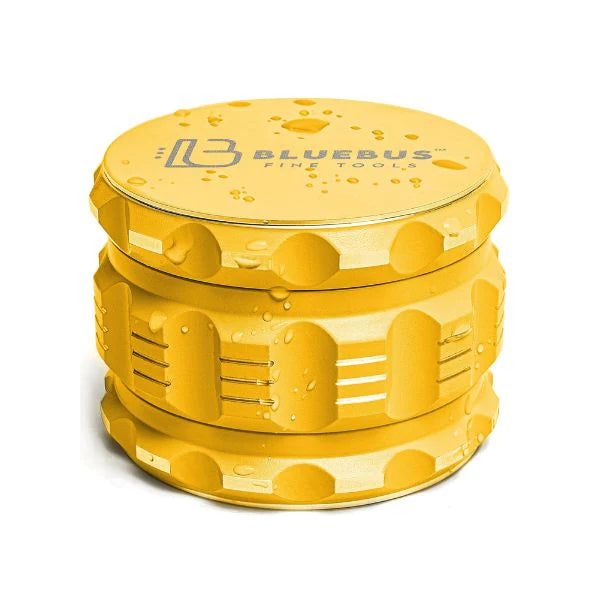 Say goodbye to tedious cleaning rituals! Our revolutionary spices grinder boasts a durable, food-safe coating that resists peeling and drastically reduces material adhesion. Experience a consistently fluffy grind with lion teeth that cut, not rip. With eye-catching packaging and an elegant design, it's the perfect gift. Each 4-piece grinder comes with a cleaning brush and pollen scraper. Bid farewell to jammed grinders with our strong magnet lid and clever locking mechanism. No more hassle of screwing!
Highlights:
Ceramic Coating

Crafted For Precision 

Striking Gift Pack

No-Spill Magnet Lid With Unique Rotation Design

Large & Durable
Level up your grinding sessions with the iconic Mario Herb Grinder. This charming grinder features a delightful Super Mario painting, bringing a touch of nostalgia and excitement to your cannabis accessory collection. Measuring 2 inches in diameter and 1.7 inches in height, this grinder is both portable and functional.
The Mario Herb Grinder includes a pollen scraper for your convenience, ensuring a smooth and efficient grinding experience. Let everyone's favorite plumber join you on your herbal adventures and add a splash of color and fun to your grinding sessions.
Highlights:
Super Mario Painting

Size: 2" D * 1.7" H

Pollen Scraper Included  
Last but not least, we present the elegant Genie 4 Parts Ceramic Weed Grinder. This exquisitely designed grinder features a ceramic cover, a 2.4-inch diameter, and a 2.5-inch height, making it visually stunning and practical. The 4-part design ensures a perfect grind every time, while the ceramic cover adds a touch of sophistication to your cannabis accessory collection.
Allow the Genie Ceramic Weed Grinder to transport you to a world of refinement and luxury, elevating your grinding experience to new heights. 
Highlights:
4 Parts

Ceramic Cover

Diameter: 2.4"

Height: 2.5"
Conclusion
Each of the 8 cute grinders for weed mentioned above offers a unique and captivating grinding experience, combining functionality with a whimsical design. Whether you're a fan of nostalgic pop culture, puzzles, or natural elegance, there's a grinder on this list that's sure to enchant and delight you. Embrace the magic of these charming grinders and add a touch of fun, color, and excitement to your cannabis accessory collection.