Stoners come from every walk of life, and the stereotype that stoners spend their days on the couch is largely a relic of the past. Most people these days are constantly on the move, and when cannabis is a part of your lifestyle, you never know when the right moment to light up will present itself. As a result, having that one accessory that you know will survive the inside of your backpack or glove compartment is essential. Fortunately, finding specially designed bongs and pipes for travel is easier than ever. Whether you're looking for a unique piece for weekend trips or a pipe that you can easily take with you on a daily basis, your smoking accessories should be able to withstand all of life's adventures, no matter where they may take you.
Some pieces are obviously too fragile or too large to travel with. Silicone is the most durable material, but we also have some high-quality thick glass pieces on the list. Here are a few travel bongs and pipes that are less likely to break in your bag or stifle your on-the-go lifestyle.
The Silicone Horn Bong demonstrates a novel method of protecting the glass body of a water pipe. Its simple and one-of-a-kind shape is protected by a silicone overcoat and a downstem. This design allows you to watch the glass fill up with smoke while protecting the top and bottom of the piece from shattering. The horn shape is ergonomic by nature. The downstem has holes at the bottom, providing an additional layer of diffusion not typically found in silicone bongs. All parts are simple to remove, clean, and replace, including the silicone sheath.
Highlights:
Height: 5.7″

Joint Size: 14mm Female

Elegant Horn Shape

Borosilicate Glass

Silicone Sleeve

Silicone Downstem
If you're concerned about the weight of a glass water pipe, this lightweight plastic Top Puff Water Pipe is an excellent choice for going out! Not only is it a highly functional and delightful water pipe, but the design allows everything to be stored within itself, making it appear to be a water bottle. Nothing is missing except a glass bowl and a downstem. It's a favorite among stoners. It works fantastically well and is highly convenient for on-the-go smoking, making it ideal for traveling or camping. Fill the bottle with enough water, screw on the cap, and enjoy your smoke!
Highlights:
Height: 8.2″

Diameter: 2″

Comes with Glass Bowl / Downstem

Travel Friendly "Bong-To-Go" Kit
Behold the captivating allure of our Iridescent Skull Mini Bong, a truly exceptional addition to your smoking collection. Crafted with an unwavering commitment to precision, this bong exhibits an alluring iridescent finish that beautifully reflects a myriad of colors under varying light conditions. Each angle reveals a unique hue, providing an intriguing visual experience that's certain to impress your companions and fellow enthusiasts.
The design takes an audacious turn with a skull-shaped contour, lending an edgy charm to this extraordinary piece. The intricate detailing on the skull's facade conjures an air of mystery, giving the illusion of age-old secrets concealed within. With its expressive eyes and a playful grin, this skull bong introduces an engaging personality to your smoking sessions, establishing itself as a truly remarkable and distinctive piece.
Highlights:
Height: 7.2"

Base Width: 4.2"

Material: High-Quality Glass

Skull Shaped

Iridescent Finish
If you're looking for a portable bong that's small and discreet while still providing a high-quality experience, the Mini Travel Bong is a great option! The amazing miniature piece is only 4 inches long in height and is small and discreet enough to easily slip into a small bag or purse, but the smaller size does not affect the quality or consistency of the hits. The Mini Travel Bong is made of high-quality borosilicate glass that is shatter-resistant and long-lasting, ideal for any on-the-go smoking. 
Highlights:
Height: 4″

Base Width: 1.6″

14mm Connection

Made From Borosilicate Glass

Color: Green
Looking to smoke on the sneak? Lugging around a bong or a bowl can be inconvenient when you're on the way. Bongs are large and fragile. They are also eye-catching. If you want something completely inconspicuous to carry around in travel situations, the POTO Water Bottle Bong from Pilot Diary is the way to go.
Smooth and potent hits are delivered by a bong disguised as a water bottle. Just fill the base with water as you would a regular water bottle to use it. 400 ML is the recommended filling level.
It is simple to clean the bottle with a sponge, just like a regular water bottle. It's also highly durable, able to withstand drops that would destroy a glass bong. If you are concerned about the safety of the bong while traveling, the POTO Water Bottle Bong will put your mind at ease.
Highlights:
Height 9"

Length 3.5"

Showerhead Perc

Easy To Clean

Silicone Mouthpiece & Stem

Hidden Bowl Storage
This is undoubtedly one of the most specialist silicone water pipe bongs on the market. It is a flexible Foldable Bong that expands and contracts. This allows it to be converted into the size bong that you prefer. When fully extended, the Adjustable Silicone Bong measures 11.7", but when the main stem is compressed, it shrinks to a small and convenient 6.7", making it ideal for storage and transportation. You can also bend the bong so that it has a bent neck to prevent water splashes, making it more convenient to use. 
Highlights:
Food-Grade Silicone

Perfect Gift for Friends and Families

Expandable & Portable 

Come with a 14mm Glass Bowl
Indulge in the delightful Hemper Milk & Cookies Bong, your perfect companion for a freshly baked experience. Expertly crafted from high-quality borosilicate glass, this pipe resembles a tall, enticing glass filled with smooth, creamy goodness.
The straw doubles as a mouthpiece, while the chamber boasts a whimsical, cookie-shaped slitted percolator reminiscent of a timeless chocolate chip treat. Effortlessly lift, inhale, and share this delectable creation with friends who crave a touch of sweetness. Though inspired by the festive season, this delightful bong is a pleasure to enjoy all year long!
Highlights:
Height: 6"
Diameter: 3"
Percolator: Cookie
Thickness: 5 mm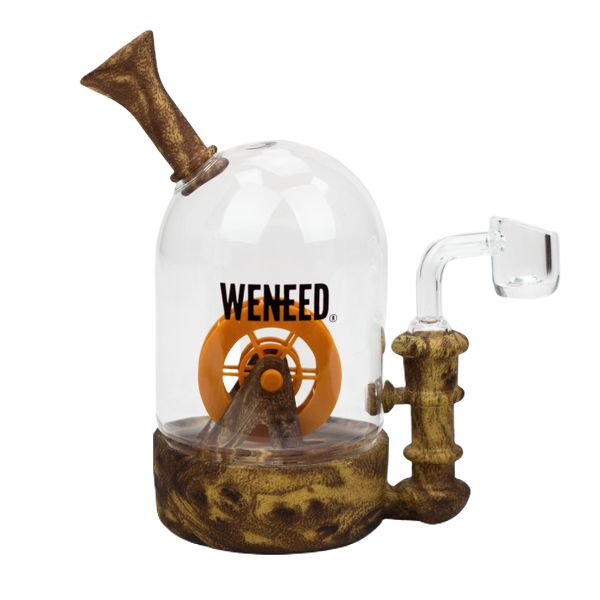 Ignite your spirit of adventure! Prepare to conquer uncharted territories as you embark on exhilarating journeys, immerse yourself in the embrace of nature, and surrender to the enchantment of vibrant festivals. Behold our extraordinary 6" portable water pipe, a true masterpiece that harmonizes flawlessly with your outdoor lifestyle. Painstakingly crafted with unwavering attention to detail, this feather-light marvel is the quintessential companion, empowering you to claim the coveted title of the heroic friend who orchestrates the pinnacle of unforgettable escapades.
Highlights:
Height: 6"
Bowl Joint: 14mm Female
Waterwheel Design
Unbreakable Silicone
You are bound to fall in love with this extraordinary glass bong! The Iridescent Bong seamlessly blends timeless design and practicality with mesmerizing, vibrant colors.
The captivating iridescent finish sets this piece apart from the rest, offering a visually stunning array of bright color combinations. This enchanting beaker comes with a diffused downstem and a 14mm male flower bowl. Plus, it features ice notches for adding ice cubes to cool down the smoke. The beaker's ergonomic shape makes it a pleasure to hold, while its increased water capacity enhances the filtration process for an unparalleled smoking experience.
Highlights:
Height: 8"
Beaker Base
Fixed Downstem
Iridescent Color
Come with a 14mm male bowl
The Bottom Line
The company of a portable bong may smooth out any bumps in the road. If you decide that taking a bong with you is a must, make sure you pack your device with proper materials. By bringing one of the above 9 travel-friendly bongs, you can guarantee a pleasant smoking trip.