Smoking your favorite herb can be very fulfilling if you do it like a real connoisseur. Forget about the cumbersome pipe, the traditional cigarette packs, or the time you will spend pre-rolling your favorite cigarette. You will need something portable and much classier. If you are a beginner at smoking using One Hitter Dugouts, here are the best choices. Only 3.5-4.2 inches in length, anymore can easily fall into pockets, or purse. The One Hitter Dugout is the perfect smoking device for on the go.
One Hitter Dugout Introduction
Originated in 1970s, 50 years have passed. Dugout is still popular, Dugout is still popular, which also shows that dugout is a fashion that never goes out of fashion. One hitter dugout stash safe will perfectly fit in your pocket hassle free. Convenient and effective with everything you need on the go. A one-hitter dugout has three parts that help you use, load, and empty your herb. On one space, you have a small one hitter pipe. The one is for clearing the used-up cigarettes, while the another one accommodates your herb or tobacco. Dugout usually are made from materials such as wood, stone, metal or acrylic, giving you the discreet smoking experience. Also, they come in different colors and compact sizes, leaving you spoilt for choice. Usually, wooden dugout is a great quality product, even after many years, it still retains the texture of its wooden craftsmanship.
How to Use a Dugout ?
The following smoking step-by-step process illustrates how the take-off, loading, and smoking using a one-hitter works:
For starters, you can only put your herb inside the dugout after it is ground. You can choose to grind it using your hand or a grinder card for a refined texture. Now get a funnel-like tool to channel your herb into the dugout pipe's storage side
Fill out the dugout compartment
Once you have put your herb into the dugout, remove the one-hitter from the tool side and direct it into the storage side. You can use a business card or a small piece of paper to slide it until the compartment is full. Now push the herb downwards without using too much force.
Before lighting your dugout, start by testing your one-hitter pipe. It has a small hollow cavity at the top, which is designed to accommodate enough herbs. Pack it up by inserting it from the top. Now press and twist it at the same time to fill the cavity. It is okay to use pressure when twisting because you want the dry herb to utilize the space to the maximum. Ensure it is neither too loose nor too tight to facilitate an easy cleaning process.
Light it up and enjoy the flavor your one-hitter will give you
Once you have smoked your entire herb, you will need to clear any remains from the top. Always remember to remove any piece of used herb sticking around the side using the extra accessory packaged alongside your one-hitter for clearing out the herb. Once you have finished smoking your herb, you can clear all the contents for the next use.
One Hitter Dugout And Pipe Guide
You can always find what you like in your budget. But you will be spoilt for choice when it comes to the wide variants. Their prices vary depending on the extra features and accessories included in the package. The ones with nectar collectors are more expensive than the rest. Before you make your purchasing decision for a cheap one hitter and dugout pipes, here are some of the features to look out for:
Digger Bats
Digger bats are common in wooden one-hitter dugouts. They are used to retrieve any tobacco or any other herb found in the boxes.
Magnetic lids
Magnetic lids prevent air from getting inside the box. Get one with sliding properties to ensure the herb doesn't accidentally get spilled.
Suited for the on-the-go smoking
The idea of carrying your one hitter inside your pocket or bag is not only fulfilling but is also a perfect way of connoisseurs to get the best smoking experience while on-the-go. Always check the measurements in width, length and depth to ensure it is portable for traveling.
Design
The most common material used to manufacture one hitter is wood. The element of discretion is demonstrated in the way it is packaged. Some have glass pipes that allow you to see the contents of your smoke.
Mini grinder
A dugout that has a mini grinder offers an all-in-one solution for smokers who are averse to the idea of separately carrying the accessories.
Where to Buy a One Hitter Dugout
Whether you are a seasoned smoker or want to try it for the first time, a dugout with one hitter pipe or mini grinder is all you need.
1.Smokea GRAV 3.75″ Dugout ($49.99)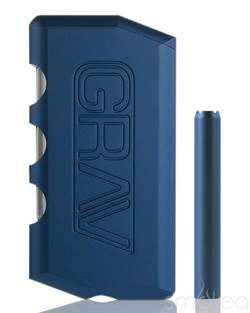 If you pursue a higher quality metal texture, this is a good choice. It is made of aluminum metal. As we all know, aluminum is durable metal construction. You have your pipe, storage, and cleaning tool all in one handheld, pocket sized device. Twist the lid to access the two chambers: the smaller contains a spring-loaded aluminum taster, the larger is a storage area for your flower, complete with polycarbonate windows for a quick supply check. The surface is made on CNC aluminum with an engraved GRAV logo. Shipping package also includes comes with a zip-up carrying case. The 3.75″ dugout has similar features to standard cigarette packs, making it easier to slip in your pocket or bag.The experience of holding it in your hand is more weight and texture.
2.The RYOT Super Magnetic Dugout( $44.00)
Super Magnetic Dugout with One Hitter is an instant classic. If your discerning vision is a collection of metal products. This is truly the perfect travel accessory and you can finally be proud to own a dugout kit.
A sleek magnetic design so that your dugout's lid automatically snaps back in place.The sliding piece glides at three different clicks: the first one exposes each opening; the second prevents spillage from occurring, while the third click prevents air from sneaking inside the storage compartment. The 4.25 inches dugout has similar features to standard cigarette packs, making it easier to slip in your pocket or bag.
3. One Hitter Dugout With Mini Grinder($18.98)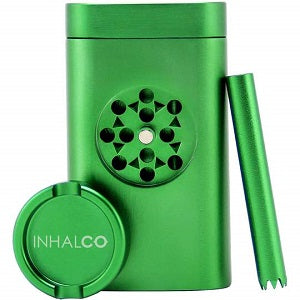 If your budget is average, I would highly recommend it. An all-in-one dugout works the same way as the other one-hitters, only this time you won't have to carry additional devices and grinders around. Once you put your herb inside, it will automatically be ground thanks to the mini grinder. Also, it has a strong magnetic force that keeps your mini grinder in place to guarantee less spillage.
For a smoking tool measuring 3.1″×1.7″×0.7″, you will hardly tell the difference between it and an ordinary cigarette pack. That makes it ideal for on-the-go smokers to slip into your pocket or bag. If you enjoy traveling, the One Hitter is the ultimate smoking accessory.
The dugout is made from premium durable materials to last you a lifetime before thinking of a replacement. It also boasts of an anti-slip design that prevents you from losing your stash around hard surfaces. This is a quality you won't find in traditional cigarette packs.
4.PILOT DIARY Wood Dugout With Glass One Hitter($25.98)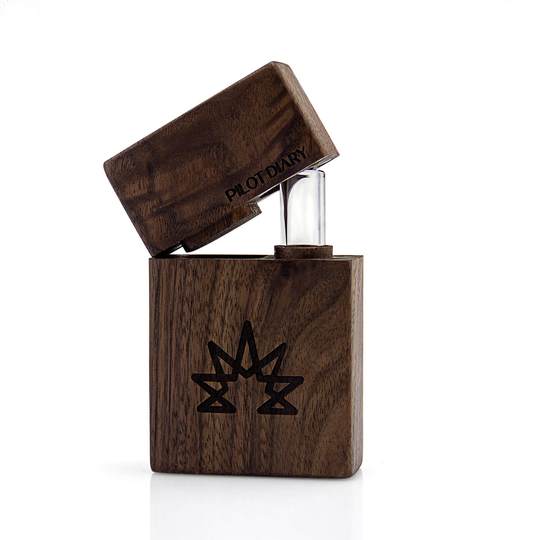 Whether you are a seasoned smoker or want to try it for the first time, a wood dugout with glass one-hitter is all you need. This hand-crafted smoking tool is not only affordable, but it is elegant for on-the-go smokers. It boasts of a robust magnet design that measures only 3.5″ and can fit in your pocket or handbag. And if you fancy a smoking tool with neutral colors, you will be pleased to know that this dugout only comes in a black walnut color.
Tips on Cleaning a Dugout One Hitter
Learn how to clean a dugout. We have similar articles mentioning how-to-clean-a-silicone-nectar-collector, and the method is roughly the same as the products used.
A plastic bag
Pipe cleaners
Water
Isopropyl alcohol
Paper towels
Step 1: Create an isopropyl solution
Using your plastic bag, create enough 91% Isopropyl and 4-5 tablespoons of salt cleaning solution to allow your pipe to be submerged. Mix the solution by shaking it lightly or stirring to get rid of resin or any other unwanted particles from hard-to-reach places.
Step 2: Put your one hitter inside the bag
Put the one hitter inside the solution and tie the plastic bag tightly to prevent spillage. Shake it lightly to get rid of all the resin buildup in hard-to-reach places. Alternatively, you can add salt on both ends of the pipe for maximum resin buildup removal.
Step 3: Let it sit for one hour
Let your one hitter sit inside the solution sit for one hour. Alternatively you can soak overnight for perfect results.
Step 4: Confirm how clean it is
Take your pipe out of the cleaning solution and rinse it with lukewarm water to eliminate any particles. If you see any resin in hard-to-reach areas, use the Q-tip and pipe cleaner to get rid of it. You can rinse as many times as long as the resin is still present.
Step 5: Let it dry before using
After your final rinse, you can let your pipe dry. Proper drying not only gets rid of any alcohol remaining inside the pipe but also helps get it ready for your next herb. So, give it at least 10-15 minutes.
Cool Dugouts and Free Shipping
The greatest thing about Dugout One Hitter is that everything that you need in one central location that's fast and easy to grab. We have a wide variety of different one hitter dugout options available on the website, so you're not going to be starved for choices. The new sleek multi-hitter and a grinder card from INHALCO allow you to grind the herb right inside the tool, giving you a smoking experience to be treasured.No matter which type of dugout you like, it is in line with your free mind.