Welcome to the enchanting world of Swiss Perc bongs, where the finest glasswork meets unparalleled smoke filtration for an elevated smoking experience. The Swiss Perc, named after its resemblance to Swiss cheese, is a unique percolator design that features multiple holes to create a captivating whirlpool effect as smoke and water pass through. The result? A smoother, cooler, and more flavorful smoke that will leave you enchanted and wanting more. Swiss Perc bongs are not only beautiful pieces of glass art, but they also exemplify the peak of functional design in the smoking world. So without further ado, let's embark on a journey through the top 8 Swiss Perc bongs that promise to delight your senses and elevate your smoking sessions.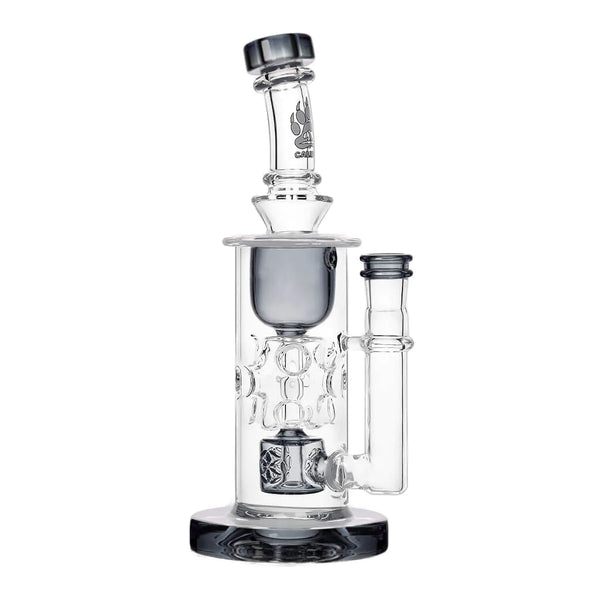 Embrace the allure of the Straight Fab Torus Bong, a captivating piece of glass art that harmoniously marries aesthetics and functionality. Its 9-inch height and flared mouthpiece will gently cradle your lips as you inhale the divine essence of your favorite herbs. The Bent Neck design provides additional comfort and prevents water from reaching your lips, while the Flower of Life Percolator creates a mesmerizing visual effect as the smoke dances through the intricate patterns.
Color accents and a thick, wide base add stability and charm to this extraordinary bong, making it a stunning addition to your collection. The package comes complete with a male bowl and a quartz banger, offering versatility for both flower and concentrate enthusiasts.
Highlights:
Height: 9 Inches

Joint Size: 14mm Female

Bent Neck

Flared Mouthpiece

Flower Of Life Percolator

Color Accents

Thick Wide Base 

14mm Male Bowl &14mm Quartz Banger Included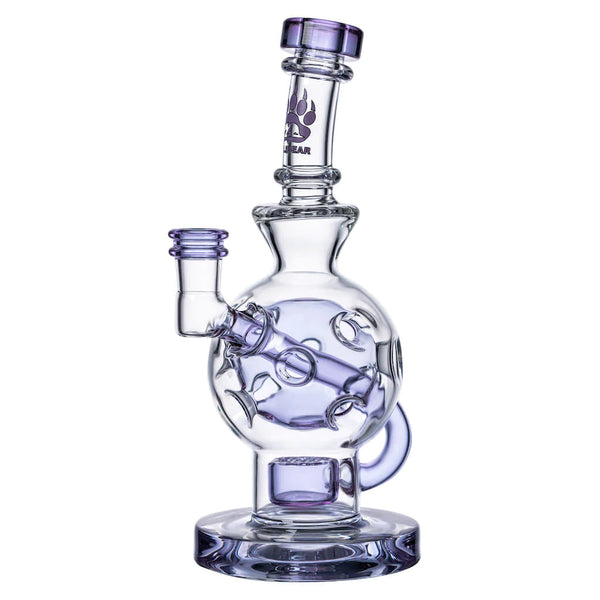 Get lost in the enchantment of the Swiss Fab Egg Dab Rig, an 8-inch tall wonder that features a captivating Fab Egg design, ensuring smooth, flavorful hits with each use. The Swiss Fab Egg Dab Rig stands tall at 8 inches, featuring a captivating Fab Egg design that ensures smooth, flavorful hits with every use. Its Swiss Perc combines flawlessly with the Fab Egg chamber, creating a hypnotic dance of smoke and water that will enchant your senses.
The 14mm female joint and included 14mm bong bowl add convenience to this dazzling piece, making it a must-have for every glass connoisseur. Enjoy the heavenly experience of the Swiss Fab Egg Dab Rig and let it guide you on a journey to euphoria.
Highlights:
Height: 8''

Joint: 14mm Female

Includes: 14mm Bong Bowl

Fab Egg Design

Swiss Perc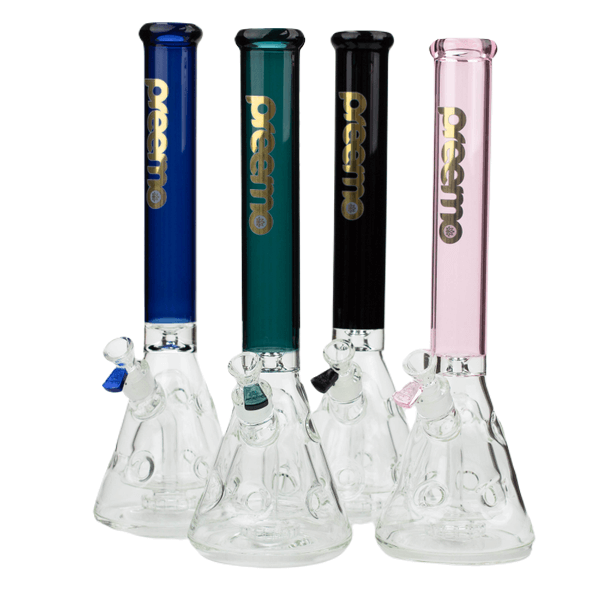 Behold the majesty of this towering 18-inch masterpiece, crafted from durable borosilicate glass. Made from durable borosilicate glass, it offers a visual and sensory experience that will leave you in awe. Its beaker base provides excellent stability, while the Showerhead percolator initiates a cascade of bubbles before the smoke travels through the Swiss Perc for an unforgettable, silky-smooth hit.
With a 19mm joint size and a 140mm base diameter, this bong is a perfect centerpiece for your collection. Elevate your smoking experience to new heights with this stunning work of glass art.
Highlights:
Beaker Base

Borosilicate Glass

Showerhead Percolator

Swiss Percolator

Joint size: 19mm

Base diameter: 140mm
The Straight Fab Water Pipe Swiss Perc is a petite yet powerful marvel, standing 6.5 inches tall. This enchanting piece features a Swiss Perc, Flower of Life Perc, and a 90-degree 14mm female joint, providing a smooth and delightful experience for your smoking pleasure.
The 3-inch can base and thick borosilicate glass ensures durability, while the included 14mm bong bowl piece adds convenience to this charming water pipe. With its compact size and elegant design, this bong is the perfect companion for your everyday smoking adventures.
Highlights:
Height: 6.5"

Swiss Perc

Flower Of Life Perc

90 Degree 14mm Female Joint

3" Can Base

Thick Borosilicate Glass

Includes 14mm Bong Bowl Piece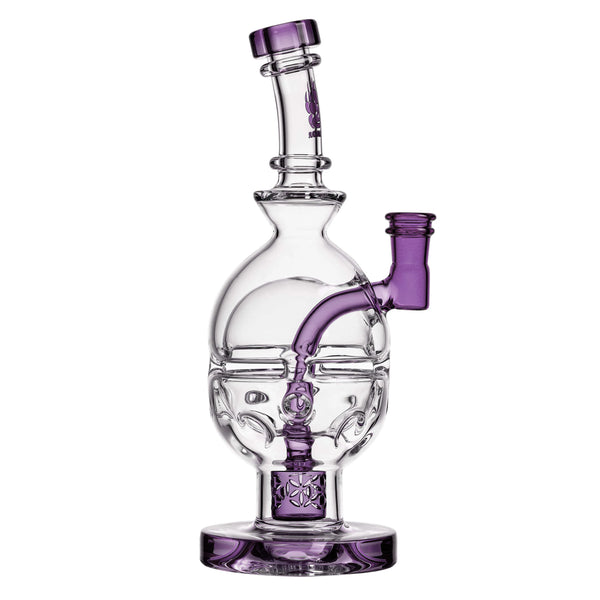 Indulge yourself in the mesmerizing world of the Fab Egg Dab Rig Flower Of Life Perc, a delightful 6.5-inch creation that combines the Fab Egg Chamber and Flower of Life Percolator for an unforgettable smoking experience.
The 3-inch base width and 14mm joint size make this piece a versatile and attractive addition to any collection.  This mesmerizing piece comes with a 14mm bong bowl and a 14mm banger, offering versatility and value to satisfy both flower and concentrate enthusiasts alike.
Highlights:
Height: 6.5 Inches

Base Width: 3 Inches

14mm Joint Size

Fab Egg Chamber

Flower of Life Percolator

Come with a 14mm Bong Bowl and a 14mm Banger
6. 18" Diamond Glass Swiss Perc Bong
This is from the Diamond Glass Gold Series by DG. A Swiss cheese percolator is included with the Diamond 18" Swiss Perc bong. Swiss percs are vertical discs with perforations in the body of a bong or rig that allow smoke and water to pass through while filtering it. The design was named after the vertical disc in the body of the pipe, which is covered with perforations and resembles a wheel of Swiss cheese. Swiss perc, like all percolators, cools the smoke, making hits smoother and less harsh. The huge holes of Swiss percs are in the body of the bong or rig itself rather than as a separate element inside the bong or rig. 
Highlights:
Brand: Diamond Glass

Percolator:  Swiss percolator

Bowl size: 18mm

Dimensions: 7"(L) x 5"(W) x 18"(H)

Weight: 38 oz
Enter the world of whimsy with the Cheese Baby Bottle Recycler Rig, a charming 8-inch piece that resembles a baby bottle, evoking feelings of nostalgia and playfulness. The 90-degree joint and 14mm male joint is complemented by the Fab Egg and Swiss Perc, creating a smooth and enjoyable smoking experience.
High-quality borosilicate glass ensures durability, while the included ceramic dab nail adds versatility for concentrate lovers. The Cheese Baby Bottle Recycler Rig is a whimsical and delightful piece that will enchant and delight you with every use.
Highlights:
Baby Bottle Design

Height: 8 Inches

90 Degree Joint

14mm Male Joint

Fab Egg

Swiss Perc

High-Quality Borosilicate Glass

Includes Ceramic Dab Nail
Experience the exquisite charm of the Exosphere Dab Rig Seed of Life Perc, an 8-inch marvel that will captivate you with its stunning Exosphere Fab Egg design. The Seed of Life Perc, an elegant addition to the Swiss Perc, creates a symphony of bubbles and smoke, delivering a smooth and soothing experience with every hit.
The 14mm female joint adds versatility, and the included free glass bowl and quartz banger cater to the needs of both flower and concentrate lovers. Elevate your smoking sessions with the Exosphere Dab Rig Seed of Life Perc and embrace the enchanting world of glass artistry.
Highlights:
Exosphere Fab Egg Design

8" Height 

14mm Female Joint

Seed Of Life Perc & Swiss Perc

Glass Bowl & Quartz Banger Included
Final Thoughts
The world of Swiss Perc bongs is a realm of beauty, elegance, and unparalleled smoking experiences. These top 8 masterpieces will elevate your smoking sessions to new heights, providing smooth, flavorful hits that will leave you longing for more. Explore the enchanting universe of Swiss Perc bongs, and let these magnificent creations guide you on a journey to euphoria and beyond.