Flowers bloom, birds sing, and the beauty of bongs is no exception to nature's aesthetic wonders. These marvelous pieces of glass art not only showcase the love and care of their creators, but also provide unparalleled functionality for those who seek a smooth and soothing smoking experience. In this article, we present to you the top 10 pretty bongs that will captivate your eyes and elevate your senses. From intricate percolators to unique designs, these bongs will leave you breathless and longing for more.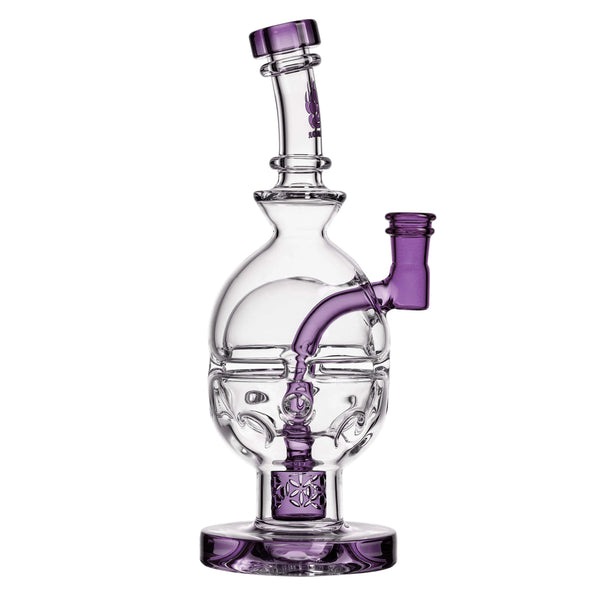 If a top-of-the-line fab egg rig is what you love, the Fab Egg Rig Flower Of Life Perc is a great choice. The Fab Egg Chamber is a unique design that maximizes smoke diffusion for a smooth, enjoyable experience. This rig is equipped with a Flower of Life Perc, which adds a unique touch to the overall design, and helps to filter your smoke for an even smoother hit.
The base of the rig is 3 inches wide, providing stability while in use. The sleek and stylish design is sure to impress your friends and elevate your smoking experience. It's perfect for both seasoned smokers and those new to the game. You'll notice the quality craftsmanship as soon as you take it out of the box. This piece is not only functional but a work of art that will impress anyone who sees it. 
Features:
Height: 6.5 Inches

Base Width: 3 Inches

14mm Joint Size

Fab Egg Chamber

Flower Of Life Percolator

14mm Bong Bowl & 14mm Banger Included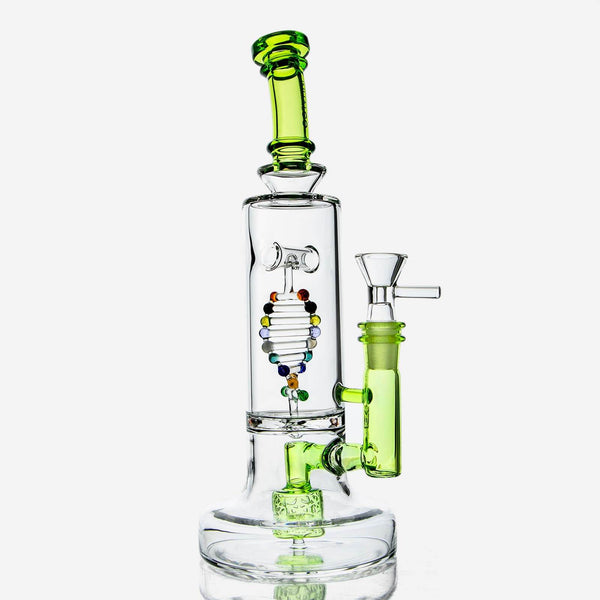 Unravel the mysteries of life with the FOL Perc DNA Bong, a 10.5-inch masterpiece that combines elegance and performance. This alluring bong showcases a captivating Flower of Life percolator and a DNA spinning glass that embodies the very essence of life itself. Its high-quality borosilicate glass construction ensures durability, while the 14mm female joint and included glass bowl provide versatility and convenience. Available in a stunning black and clear color combination, this bong is an exquisite addition to any collection. With colored embellishments sparkling up and down the helix, this stunning masterwork commands attention wherever it is used. 
Features:
Height: 10.5"

14mm Female Joint

Fixed Downstem

Flower Of Life Perc

DNA Spinning Glass

Flared Mouthpiece

High Quality Borosilicate Glass

14mm Glass Bowl Included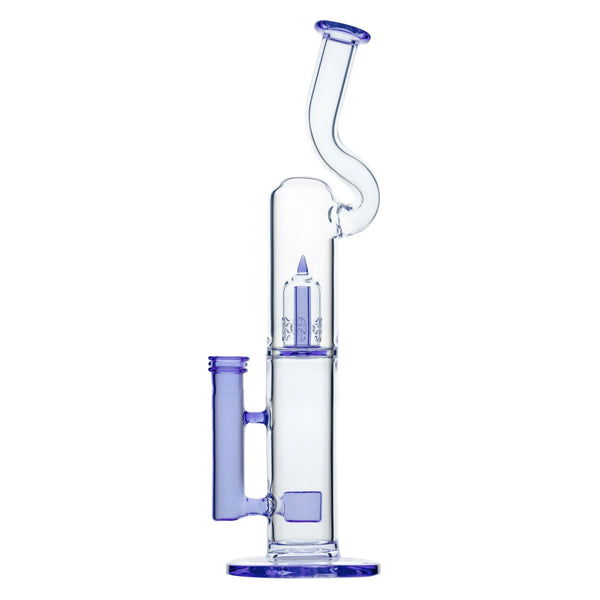 Standing tall at 16 inches, the Natty Flower Bong with Seed of Life Perc is a breathtaking fusion of natural beauty and modern craftsmanship. The flower-themed design is complemented by a powerful Seed of Life percolator, providing a smooth and enjoyable smoking experience. With an 18.8mm female joint and a matching herb bowl included, this bong is a beautiful tribute to the wonders of nature and a delightful addition to any collection.
Features:
Height: 16 Inches

Joint Size: 18.8mm Female

Includes: 18mm Matching Herb Bowl

Seed Of Life Perc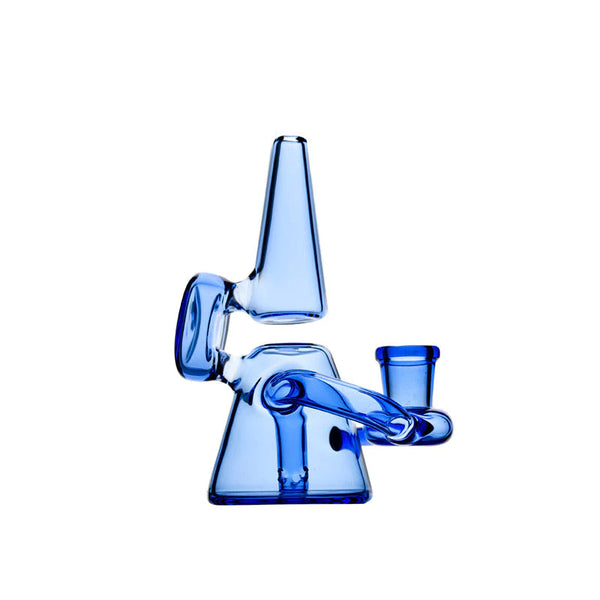 Small but mighty, the 5.5-inch Layered Cone Mini Rig is a charming bong that features a unique layered cone design, reminiscent of a blossoming flower. This mini rig is perfect for those who prefer a more compact smoking experience, and the 14mm joint and included glass bowl ensure compatibility with a variety of accessories. Whether you're a seasoned dabber or a beginner, the Layered Cone Mini Dab Rig is a great choice for enjoying your concentrates in style. Add this mini dab rig to your collection today and enjoy the smooth, flavorful hits that it provides.
Features:
Height: 5.5"

Joint: 14 mm

Come with a 14 mm Glass Bowl

Unique layered cone design
Unveiling the 10.5-inch-tall marvel that masterfully merges form and function—the Mermaid Custom Slide, a masterpiece of smoking sophistication. With a width of 3 inches, this elegant piece captures the ethereal beauty of underwater mystique in a shape reminiscent of both an artistic vase and a graceful fish. The 9-millimeter, 2.75" large bubble bowl is not just a simple receptacle; it's a tribute to nature's bounty.
This piece is not only appealing visually, but also it's robust and perfectly suited to deliver an unmatched smoking experience. The Fixed Downstem, subtly concealed within the beauty of the design, ensures a smooth, uninterrupted flow for each draw. Adding to the marine theme is the stunning Coral Flower Poker, which makes every interaction a sensory delight.
Features:
Height: 12" 

18 mm Female Joint

Thick Borosilicate Glass

Includes 18mm Glass Bong Bowl
Surrender to the hypnotic enchantment of the 13" Color Dots Beaker Bong—an exquisite work of art expertly fashioned to amplify and transcend your smoking adventure. Submerge yourself in an orchestration of shades and tactile sensations as you journey into the realm of peerless borosilicate glass excellence.
The singular charm of this beaker bong lies in its remarkable 3D Texture design. Brace yourself to be bewitched by an explosive array of hues, precisely composed in a complex pattern that seems to spring to life with every inhalation. Each puff from this bong causes the colors to pirouette and intertwine, transforming your smoking interlude into an entrancing spectacle that invigorates every sense.
Features:
Borosilicate Glass
Joint Size: 14mm
Base Diameter: 125mm
Thickness: 7mm
3D Texture
Absolutely! The Frosted Yoshi Egg Glass Bubbler is a wonderful piece I'd be happy to recommend for you. This glass water pipe features a charming Yoshi dino design with a base that has three holes perc, delivering effective filtration and producing plenty of bubbles for an incredibly smooth smoking experience. The bubbler is constructed using thick glass and decorated with lovely frosted accents for a visually appealing look. It's an excellent choice if you're looking for a unique and high-quality bubbler that's both functional and stylish.
Features:
Height: 3"

Base Diameter: 1.25"

Yoshi Design

Egg Shape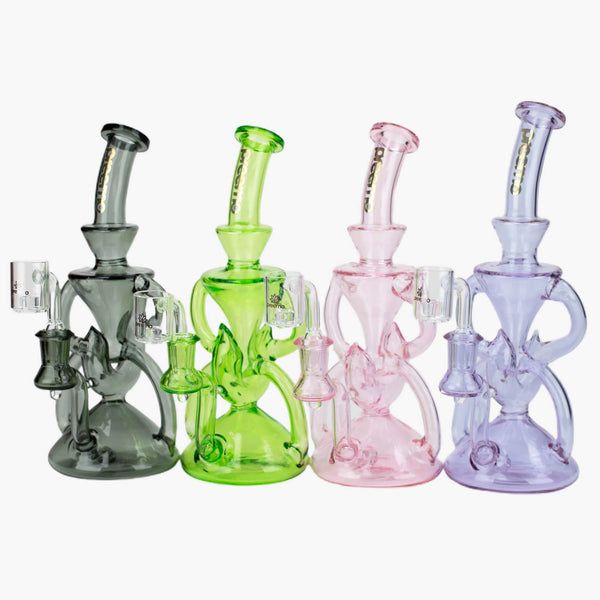 Are you looking for an extraordinary dab rig recycler that elevates your smoking sessions? Look no further! The Preemo 4-Arm Dab Rig Recycler is here to satisfy all your dabbing desires. With its unique design and superior functionality, this incredible piece is sure to stand out in your collection.
The Preemo 4-Arm Dab Rig Recycler features a distinctive half-ring chamber that not only looks stunning but also ensures smooth and flavorful hits. With a height of 10 inches and a base diameter of 4 inches, it's the perfect size for all your dabbing needs. Plus, its compact form makes it easy to store and transport, so you can enjoy your favorite concentrates anytime, anywhere.
Choose from our eye-catching color options - green, pink, purple, and transparent black - to find the perfect match for your personal style. The vibrant hues make this dab rig recycler a statement piece that will surely impress your friends and fellow enthusiasts.
Features:
Half-ring chamber

Height: 10"

Base Diameter: 4"

Come With A Quartz Banger

Recycler Design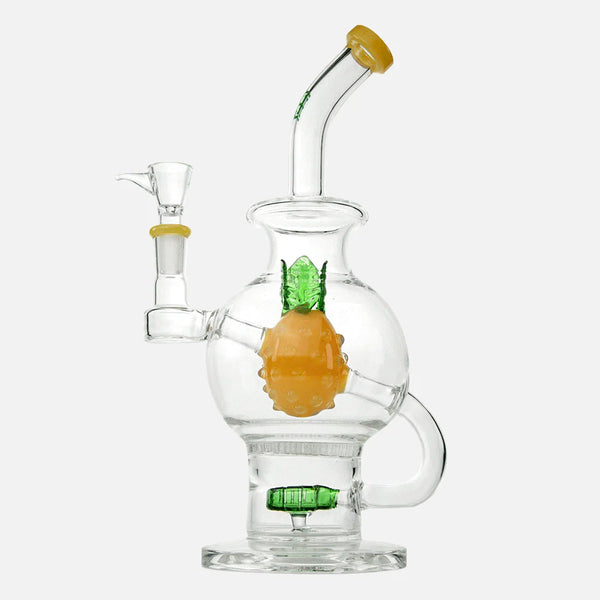 One of the latest glass from HEMPER brings style and function to our fans of big rips and pineapples! This double ball design (or rather a ball and pineapple) features a globe-like chamber with an inner pineapple downstem + splash guard floating in the center! Look closer and you'll notice this piece has not one, but two percolators for extra smooth rips. The first stage showerhead breaks up smoke and passes bubbles up to a honeycomb perc causing ample bubble stacking for double diffusion in this massive rig. Right above the percs is the centerpiece of the bong – the brightly colored pineapple splashguard to keep all of that water down and the smooth smoke rising!
Features:
11" Inches Tall

Double-Ball Style

Pineapple Splashguard/Downstem

Dual Percs: Showerhead + Honeycomb

WHAT'S INCLUDED:

HEMPER Pineapple XL Bong

14mm Male Joint Flower Bowl

The exquisite Preemo 9" Bauble Recycler Bong, a masterfully constructed glass piece that blends spectacular aesthetics and clever functions, will elevate your smoking experience. This outstanding bong features an innovative filtering system that ensures each session is smooth, tasty, and pleasurable.
The percolator incorporated into the showerhead breaks down smoke into smaller bubbles, resulting in cooler, smoother, and less unpleasant hits. This innovative filtration procedure not only improves taste but also lessens the harshness on your throat and lungs. The Preemo 9" Bauble Recycler Bong also has a Klein recycler design, which elegantly transfers water back to the first chamber via a second stem while without interfering with the smoke's passage. This continuous water circulation method cools the smoke further while retaining its flavor and intensity.
Features:
Height: 9"

Showerhead percolator

Come with a herb bowl

Base diameter: 80mm

Color: black | green | purple | topaz
Embark On A Brand New Smoking Journey With A Pretty Bong  
The world of bongs has come a long way since its inception. Today, a wide range of bongs are available in various shapes, sizes, and designs to cater to the tastes of different individuals. With more and more people embracing the culture of smoking, owning a bong has become a rite of passage for many. Our list of the top 10 pretty bongs serves as a guide for those who are in search of a unique, stylish, and functional accessory for their smoking sessions. Whether you prefer glass, acrylic, or silicone bongs, there is something for everyone on our list. So, go ahead and pick the one that speaks to you the most and enjoy a smooth smoking experience like never before!