Collapsible bongs are water pipes that can be taken apart and folded down to a smaller size for easier transport and storage. These types of bongs are popular among people who like to smoke on-the-go or who live in small spaces that do not allow for large smoking devices.
Collapsible bongs come in various shapes, sizes, and materials, but the most common ones are made of silicone or plastic. These materials are lightweight, durable, and resistant to high temperatures, making them ideal for portable bongs. Some models feature detachable bowls or percolators, which can be removed for easy cleaning.
To use a collapsible bong, simply unfold and assemble the parts, fill the base with water, and pack the bowl with ground dry herb. The smoke is filtered through the water and into the mouthpiece, providing a smoother and cooler hit. When you're done smoking, simply disassemble the bong and clean it thoroughly before storing it away.
Collapsible bongs are an excellent option for smokers who want a convenient and portable smoking device that can be easily transported and stored. They come in a variety of styles and designs to suit different tastes, so anyone can find the perfect collapsible bong for their needs.
Step into a world where your smoking experience is amplified by the perfect fusion of aesthetics, functionality, and portability. Discover the most mesmerizing and delightful collection of the top 8 collapsible bongs available today. With their captivating designs and innovative features, these stunning smoking companions are sure to delight and enchant. Whether you are treating yourself or looking for a thoughtful gift for a loved one, explore the luxurious world of these alluring collapsible bongs and elevate your smoking experience to new heights.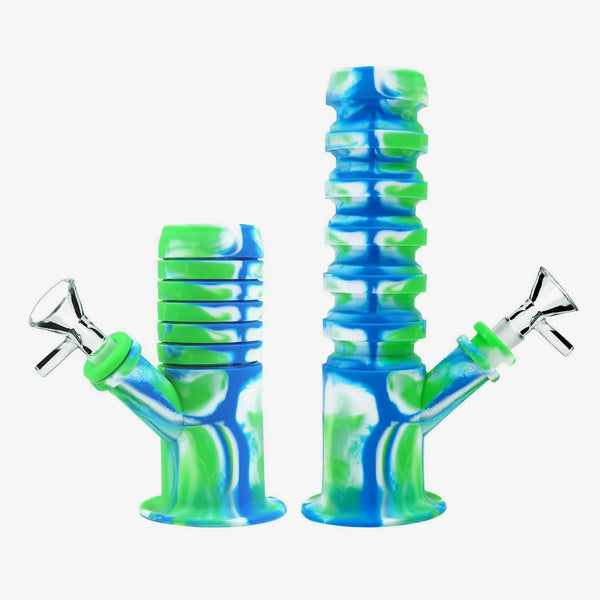 Behold the grandeur of the Expandable Silicone Pipe, a masterpiece of smoking innovation, crafted with high-quality, food-grade materials that ensure a safe and enjoyable experience. The elegant design is complemented by its remarkable features, such as a downstem with a powerful magnet for collecting your lighter and dab tools. This thoughtful addition keeps your smoking area organized and ensures you never misplace essential accessories.
A perfect gift for friends and family, this portable beauty is accompanied by a 14mm glass bowl, allowing you to savor the flavors of your favorite herbs and concentrates. With its attractive design and practical features, the Expandable Silicone Pipe is an exquisite blend of elegance and versatility, perfect for any smoking enthusiast.
Highlights:
High-Quality Expandable Silicone

Food-Grade Material

Strong Magnet For Collecting Dab Tools

Perfect Gift

Portable To Carry

14mm Glass Bowl Included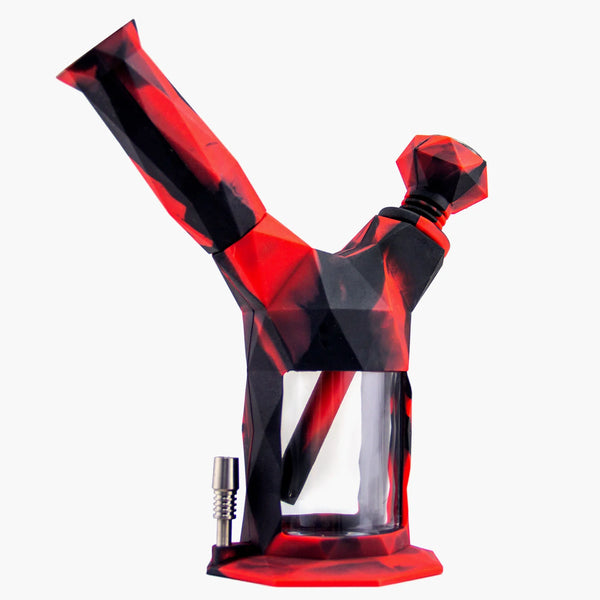 Introducing the Gemini Silicone Bubbler, the epitome of versatility and a true testament to the harmony of form and function. This celestial creation boasts an array of features that make it a delightful all-in-one solution for your smoking needs. With a Silicone Nectar Collector for savoring concentrates, a Silicone Bong Bowl for enjoying dry herbs, a Glass Concentrate Container for storing your precious extracts, and a 10mm Titanium Tip for the perfect hit, this versatile bubbler is a must-have for any connoisseur.
The Gemini Silicone Bubbler is not only versatile but also stylish. Its sleek design and eye-catching colors make it a stunning addition to any collection, and its compact size ensures it can easily accompany you on all your adventures.
Highlights:
Gemini Silicone Bubbler

Silicone Nectar Collector

Silicone Bong Bowl

Glass Concentrate Container

10mm Titanium Tip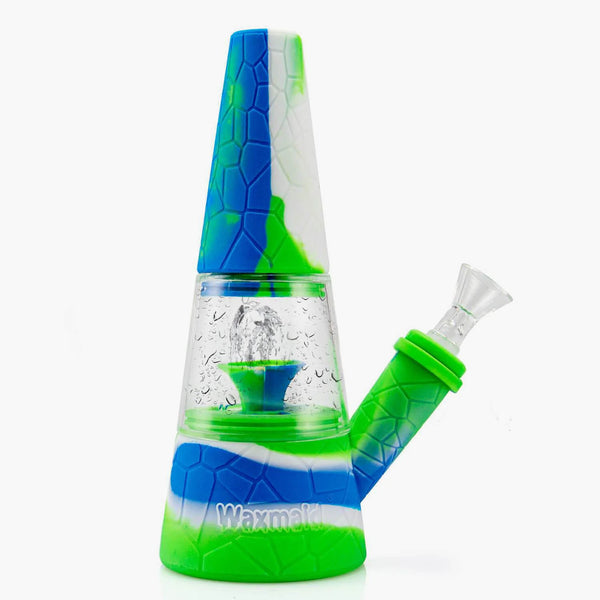 Step into the realm of the Fountain Water Pipe, an awe-inspiring 7.9-inch creation, boasting an unbreakable silicone build and a captivating central fountain design that adds a touch of magic to your smoking sessions. This cone-shaped wonder promises to transform your smoking experience into a mesmerizing adventure while providing a smooth and enjoyable hit.
The Fountain Water Pipe is the perfect combination of durability and beauty. Its unbreakable silicone construction ensures it can withstand even the most adventurous of lifestyles, while its enchanting design makes it a stunning centerpiece for any collection. With the Fountain Water Pipe, you can enjoy the best of both worlds – an unbreakable bong that is as visually captivating as it is functional.
Highlights:
Unbreakable Silicone

Height: 7.9" 

Central Fountain Design

Cone Bong Shape
Let your memories take flight with the Silicone Mario Bong, a whimsical 11-inch tribute to the classic video game icon that has captured the hearts of millions. This delightful bong features a single chamber, fixed stem perc for smooth and satisfying hits, and a 14mm female joint, ensuring compatibility with your favorite accessories.
Crafted from high-quality, colored silicone, this playful bong is not only visually appealing but also highly durable and easy to clean. Its charming design is sure to spark conversations and evoke fond memories of afternoons spent battling and rescuing Princess Peach. The Silicone Mario Bong is a nostalgic treasure that will make a delightful addition to any collection.
Highlights:
Single Chamber, Fixed Stem Perc

14mm Female Joint

Colored Silicone

Height: 11"

Weight: 12.3 oz

Base Diameter: 3.5"
Illuminate your smoking experience with the enchanting glow of the Mini Silicone Glass Horn. Standing at 5.7 inches tall, this radiant bong features a 14mm female joint and includes a silicone downstem and glass bowl piece, offering you the perfect combination of form and function. Its glow-in-the-dark design not only adds a touch of whimsy to your collection but also ensures you can easily find your trusty companion during late-night sessions.
The Mini Silicone Glass Horn is a splendid choice for those seeking an illuminating companion that is as beautiful as it is practical. Its compact size makes it perfect for on-the-go adventures, while its luminous design adds an enchanting flair to any smoking experience.
Highlights:
Height: 5.7"

Joint Size: 14mm Female

Glow In The Dark

Silicone Downstem

Glass Bowl Piece
Merging futuristic aesthetics with practical functionality, the Silicone Glass UFO Bong is a masterful blend of borosilicate glass and food-grade silicone. Designed for the modern connoisseur, its three-part detachable build prioritizes both ease of cleaning and optimum smoking pleasure. From its intriguing UFO-shaped silicone lid down to the broad, sturdy base, each element plays a vital role. Notably, the spacious base ensures impeccable smoke diffusion, ensuring every pull is smoother than the last.
But that's not where the magic ends. As dusk falls, the saucer's edge comes alive with a phosphorescent glow, turning your late-night sessions into an otherworldly experience. This bong isn't just a smoking accessory; it's an encounter waiting to be had.
Highlights:
Height: 8.8"

UFO Design

High-Quality Borosilicate Glass

Food-Grade Silicone

Glow-In-The-Dark Lid

14mm Female Joint

Includes 14MM Glass Bowl

Available in Many Colors
Take a voyage into the stars with the delightful R2D2 Silicone Bubbler. Standing at a compact height of 5.3 inches, this bubbler, made from food-grade silicone, features a 14mm female joint, making it an excellent companion for your traveling adventures. Its robust build and playful design render it as the perfect ally for memorable smoking experiences. Just as R2D2 is always there for Luke Skywalker, this bubbler will always be at your side.
The R2D2 Silicone Bubbler is an exceptional pick for those who are always on the move. Its compact size coupled with its durable construction ensures that you can carry it everywhere without worrying about any damage. The meticulous design, highlighting R2D2's signature colors and patterns, will undoubtedly attract any Star Wars aficionado. This bubbler serves not only as a reliable partner for your smoking sessions but also as an engaging icebreaker.
Highlights:
Height: 5.3

 

"

Food Grade Silicone

14mm Female Joint

R2D2 Design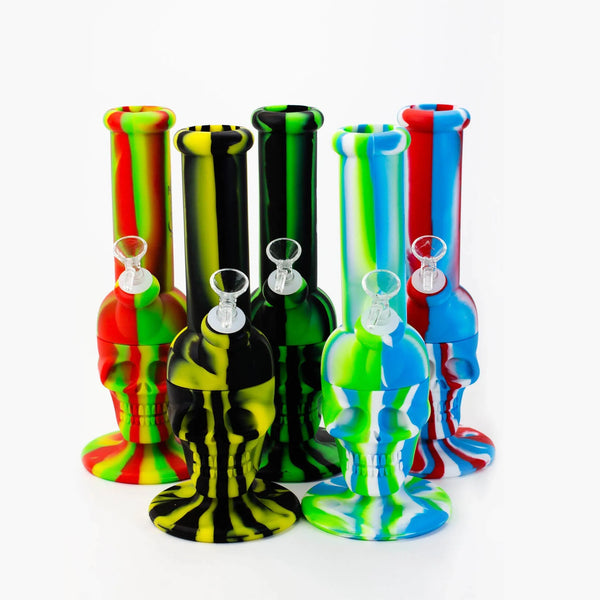 Prepare to be bewitched by the spellbinding allure of the 11-inch Genie Skull Bong, a detachable silicone masterpiece with an intriguing skull-shaped base. Crafted from food-grade silicone, this unbreakable bong is not only visually captivating but also designed to provide a smooth and enjoyable smoking experience.
The Genie Skull Bong features a 4-inch removable silicone downstem and a thick bowl for a 14mm female joint, ensuring compatibility with a variety of accessories. Its detachable design makes it easy to clean and maintain, while the enchanting skull shape adds an air of mystery and intrigue to your smoking sessions.
Highlights:
Food-Grade Silicone

Height: 11

"

4" Removable Silicone Downstem

Thick Bowl For 14 mm Female Joint

Base: 4.5"

Skull-Shaped Base
Final Thoughts
The enchanting world of collapsible bongs offers a rich variety of delightful experiences, each designed to captivate your senses and elevate your smoking journey. These top 8 collapsible bongs showcase a symphony of elegance, versatility, and style, woven together to create a mesmerizing collection of smoking companions. Discover the perfect smoking companion that resonates with your heart and let yourself be swept away by the beauty and sophistication of these delightful treasures.