In the fast-paced world, the demand for compact, stylish, and efficient smoking devices is on the rise. Small bongs have emerged as a popular choice among smoking enthusiasts due to their portability, affordability, and powerful performance. These mini bongs offer the perfect solution for those who want a high-quality smoking experience without the bulk or hassle of larger bongs. They're ideal for on-the-go adventures, low-key sessions at home, or for those with limited storage space.
In this comprehensive guide, we've carefully curated a list of the top 8 small bongs that are not only visually stunning but also incredibly functional. Each bong has been chosen based on its unique features, design, and performance, ensuring that there's something for everyone. From innovative percolators to intricate design details, these mini bongs are packed with features that cater to both beginners and seasoned enthusiasts alike.
So, sit back and explore our list of the top 8 small bongs that deliver big on performance, style, and convenience. We're confident you'll find the perfect mini bong to suit your needs and enhance your smoking experience!
The Mini Dab Rig 4" is a compact powerhouse that packs a punch in a small package. Standing just 4 inches tall, it's perfect for those who want a portable rig that doesn't sacrifice performance. Made from high-quality borosilicate glass, this dab rig is built to last, withstanding the test of time and daily use. The 14mm connection ensures compatibility with your favorite accessories, while the vibrant blue color adds a touch of style to your collection. With a base width of 1.6 inches, this mini dab rig is both stable and space-efficient, making it an excellent choice for those with limited space or who like to take their sessions on the go.
Specs:
Height: 4 inches

Base Width: 1.6 Inches

14mm Connection

Made From Borosilicate Glass

Color: Blue
Upgrade your smoking experience with the 8" Dome Percolator Beaker Bong-Leaf. This sleek and stylish bong features a beaker base for increased stability, making it perfect for both at-home and on-the-go use. The single dome percolator effectively filters and cools the smoke, providing you with smooth and satisfying hits every time. The 3 pinched ice catcher adds an extra layer of cooling, ensuring an enjoyable smoking experience. The 4.5" downstem and 14mm female joint bowl add versatility and functionality, allowing you to customize your sessions to your preferences.
Specs:
Height: 8"

Beaker base

3 Pinched Ice Catcher

Single Dome Percolator

Downstem: Total Length: 4.5"

Bowl For 14 mm Female Joint
The Sandblasted Bell Rig is a true work of art, combining an intricate sandblasted design with the functionality of a high-quality bong. The bell shape not only adds visual appeal but also provides stability and enhances the smoking experience. Standing at 6.5 inches tall and featuring a 14mm joint, this bong is perfect for those who value both aesthetics and performance. The included free glass bowl is a bonus, allowing you to start enjoying your new bong right away. The sandblasted design adds texture and depth to the glass, creating a unique and eye-catching piece that is sure to be a conversation starter.
Specs:
Sandblasted Design

Bell Shape

Height: 6.5"

Joint:14 mm 

A Free Glass Bowl Included
Experience the power of innovation with the Spinning Windmill Perc Mini Bong. This bong is designed with a cutting-edge windmill propeller percolator that provides exceptional filtration and cooling, ensuring smooth, flavorful hits with every use. Standing at 5.5 inches tall, this bong features a bent neck and a 90-degree 14mm female joint, adding to its functionality and ease of use. Made from high-quality borosilicate glass, the Spinning Windmill Perc Mini Bong is built to last, making it a valuable addition to any collection. The included 14mm bong bowl piece adds convenience, allowing you to start enjoying your new bong right away.
Specs:
Height: 5.5"

Bent Neck

90 Degree 14mm Female Joint

Windmill Propeller Percolator

High-Quality Borosilicate Glass

Includes 14mm Bong Bowl Piece
Unleash your inner beast with the Dankzilla XL Bong, a powerful and unique piece that is sure to impress. At 8 inches tall, this bong features a large bottom-mounted dome percolator for optimal filtration and cooling. The pink brain splash guard and cooling chamber not only add a touch of whimsy to the design but also contribute to an exceptionally smooth smoking experience. The "brain-storm" effect creates an eye-catching visual display as smoke streams through the five holes in the brain, producing a plume-shaped smoke stream from each hole. The combination of innovative design and high-quality materials makes the Dankzilla XL Bong an excellent choice for those looking to elevate their smoking sessions.
Specs:
Height: 8" 

Large Bottom Mounted Dome Percolator

Pink Brain Splash Guard & Cooling Chamber

"Brain-Storm" Effect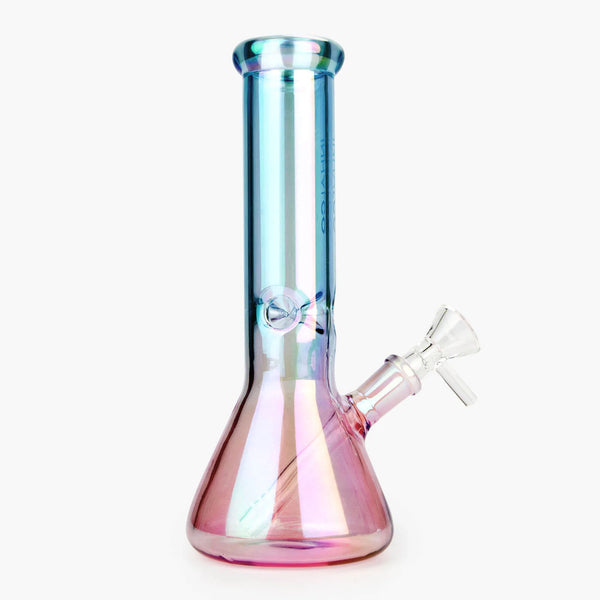 Transform your collection with the mesmerizing Iridescent Bong, an 8-inch tall bong that features a captivating color-shifting finish. The beaker base provides stability and ensures a smooth smoking experience, while the fixed downstem adds to the bong's functionality. The iridescent color catches the light, creating a stunning visual display that sets this bong apart from others. The included 14mm male bowl allows you to enjoy your favorite herbs with ease, making the Iridescent Bong a versatile and stylish addition to any collection. Perfect for those who appreciate both form and function, this bong is sure to become a favorite in no time.
Specs:
Height: 8"

Beaker Base

Fixed Downstem

Iridescent Color

Come With A 14mm Male Bowl
The Hemper Vase Bong is a sophisticated and stylish option for those who appreciate elegant design combined with top-notch performance. Standing at 7 inches tall with a 3.5-inch base, this vase-shaped bong is perfect for any space, whether you're enjoying a low-key session at home or bringing it along for a social gathering. The angled downstem features a ball perc, ensuring your smoke is filtered and cooled for a smooth and enjoyable hit. A 14mm male flower bowl is included, allowing you to use the Hemper Vase Bong with your favorite herbs. With its combination of elegance and functionality, this bong is a fantastic addition to any collection and is sure to impress both seasoned enthusiasts and newcomers alike.
Specs:
Height: 7"

Base: 3.5"

Angled down stem with ball perc

14 mm male flower bowl included
Add a touch of feminine flair to your collection with the Pink Drip Dab Rig. This beautiful and unique dab rig features a stunning pink color and a dripping detail that makes it stand out from the crowd. Measuring 6 inches from base to mouthpiece, this 5mm thick bong is built to last and withstand daily use. The 14mm female joint size ensures compatibility with a wide range of accessories, allowing you to customize your dabbing experience. Despite its compact size, this pink beauty delivers powerful and flavorful hits, making it a must-have for any dabbing enthusiast.
Specs:
Beautiful Pink Dab Rig With Banger 

Joint size: 14mm Female

Height: 6" 

Thickness: 5mm
Invest On A Quality Small Bong
The top 8 small bongs listed above offer a unique combination of style, functionality, and portability, ensuring that there's something for everyone. Each bong boasts impressive performance despite its compact size, making them perfect for those who value quality and convenience. With intricate designs, innovative percolators, and high-quality materials, these small bongs provide an unparalleled smoking experience. So, explore these fantastic options and find the perfect small bong to elevate your smoking sessions today!