What better way to start the day than with a wake and bake mug? We tested a large number of coffee pipes and selected the top 10 mug bongs made of various materials ranging from ceramic to glass. We made our decision based on the size of the bowls, how well they worked, and how easy they were to clean.
The unparalleled top 10 wake and bake mugs series comes in a variety of shapes for different preferences. They are made to be comfortable to hold and grip. Textural designs, embossing, and graphic prints adorn these mug bongs. Various novelty designs make them ideal as gifts for your stoner friends, allowing them to display their distinct personality and tastes.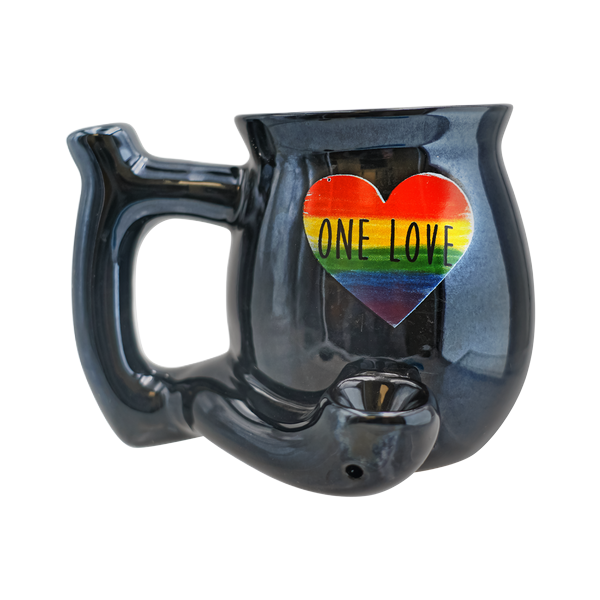 Experience the ultimate combination of functionality and style with the "One Love" Mug Pipe – a must-have accessory for any true smoking enthusiast. This exceptional product features a spacious bowl and a convenient handle, perfect for enjoying your favorite herbs with ease. Crafted from high-quality materials and designed with a chic aesthetic, the "One Love" Mug Pipe is both durable and stylish. Whether you're a seasoned smoker or just starting out, this versatile product will elevate your smoking experience to the next level. With its compact size and portability, you can take the "One Love" Mug Pipe with you wherever you go. And when you're not smoking, it doubles up as a coffee mug, keeping your beverage hot or cold for longer. Don't settle for ordinary smoking accessories or plain coffee mugs; live the true meaning of smoking with style by adding the "One Love" Mug Pipe to your collection today
Highlights:
One Love Pattern

Ceramic

Stunning Design

Fully Functional Pipe & Mouthpiece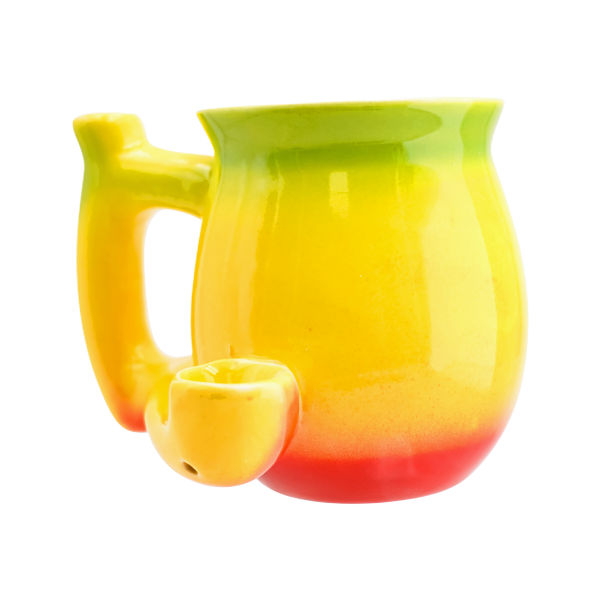 Enjoy your sesh in style with Ooze Wake And Bake Coffee Mug! The Toxic Waste Barrel Mug Pipe simplifies your daily wake and bake session. Pour yourself a hot cup of coffee, pack the bowl near the bottom, and relax for the morning. This mug is shaped like a bright yellow hazardous waste barrel, with iconic green slime oozing over the brim.
Ooze Mug Pipes are ceramic pieces that combine your herb and beverage while keeping them separate. The bowl sits at the bottom, and the smoke rises through the hollow handle to the small mouthpiece at the top. This ceramic mug can be heated in the microwave. If there is still resin build-up in the bowl, use a cotton swab dipped in isopropyl alcohol to remove it.
Highlights:
14 Oz

Ceramic

Rasta Color
Are you looking for an excellent gift for someone you care about? Thrill them with this fun Snowman Weed Coffee Mug. As an excellent ​companion for a wake-and-bake on a chilly winter morning, this delightful Snowman Roast & Toast Mug will put a smile on their face! 
This novelty mug is made from ceramic. It features a snowman in brilliant colors with rosy cheeks. The handle has a funny striped design. It depicts a brightly colored snowman with rosy cheeks. The handle is striped and has a fun design. A pipe is attached to the front of the mug, where you can pack your tobacco and light it. The smoke filters up the hollow handle to the top mouthpiece, allowing you to smoke alongside your steaming coffee.
Highlights:
High-Quality Ceramic

10 Ounces

Unique Snowman Design

Fully Functional Mug and Pipe

Perfect Holiday Gift

Microwave and Dishwasher Safe
Your morning sesh will really perk up with the Premium Coffee Mug Pipe. This premium ceramic pipe mug was the ideal wake and bake mug because it was both efficient and simple to use. It has a sturdy base for holding coffee or tea while allowing for the strongest hits to the dome. The mouthpiece is in an ideal position, making it simple to use while drinking coffee. We can all agree that a cup of coffee in the morning is a great way to start the day. The mug has a fantastic effect that allows you to enjoy the best of both worlds while remaining focused on what you need to do, such as work.
Highlights:
Holds Approx 10 oz

Premium Roast & Toast Mug

Made from Ceramic

Microwave and Dishwasher Safe

Four Colors Available
Look no further for the attractive on-trend gift for friends who like to treat themselves to a "special" coffee every now and then. The trendy Santa Claus Wake N Bake Mug is made of ceramic and holds approximately 16oz of liquid. The mug portrays a brightly colored Santa with bushy white eyebrows and a mustache. The handle, which is a bright red, completes the look. This dual-use coffee mug doubles as a pipe, with a front bowl and a handle mouthpiece. Made of high-quality ceramic, this mug is a one-of-a-kind addition to your mug collection.
Highlights:
16-ounce Mug

Ceramic Coffee Cup Pipe

Smoking Santa Design

Includes Mouthpiece in Handle and Carb
Gather around the fire during the holidays with the Hemper Coco Mug Pipe and enjoy countless unforgettable seshes. The Coco mug bong, with a built-in handle and a classic mug design, is sure to add some warmth to your routine. 
It is inspired by an iconic mug, which draws you in, but it is the function that makes this piece stand out. The straight candy cane straw and 40-hole honeycomb percolator offer maximum airflow for easy, flavorful hits. All you have to do is to pack the bowl and light a fire, and the Coco mug bong will undoubtedly brighten your day!
Highlights:
Durable Borosilicate Glass

6" Tall, 2.6" Diameter

Straight Neck

Candy Cane Straw Mouthpiece

40-Hole Honeycomb Perc

14MM Male Dry Herb Bowl Included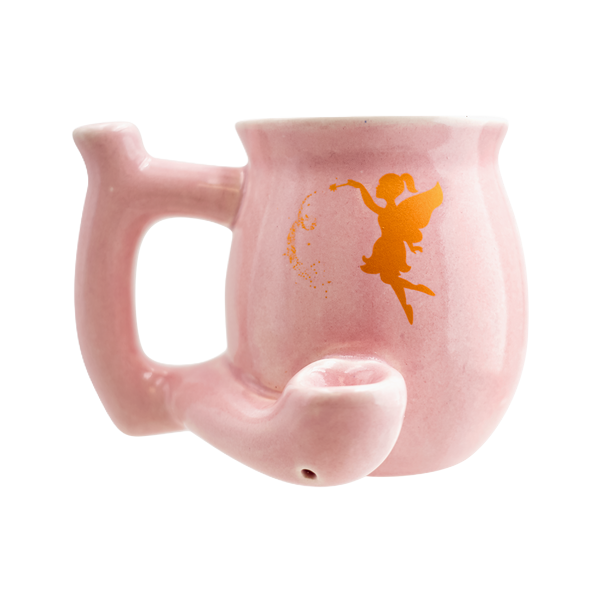 Choose the Fairy Mug Pipe to take your smoking experience to new heights. Enjoy a stylish and comfortable smoking experience with the spacious bowl and comfortable handle, all in a dazzling fairy-inspired design that will leave you enchanted. This durable product is made from high-quality ceramics and is built to last. It is also portable, so you can take it wherever you go and never miss out on a smoking session. As an added benefit, when you're not smoking, the Fairy Mug Pipe can be used as a coffee mug. It's the ideal all-in-one accessory for smokers who value both style and functionality, so add it to your collection today and enjoy a smoking experience like no other!
Highlights:
Ceramic Coffee Cup Pipe

Fairy Design

Includes Mouthpiece in Handle and Carb

Various Colors Available
The GRAV Weed Mug Bubbler, modeled after everyday objects that also carry liquid like a bong, is a perfect way to light up your day. The "handle" on the side also functions as a downstem, with small holes at the bottom allowing smoke to diffuse and bubble up for a super smooth smoking experience with every puff. The combination gives the Grav Coffee Mug water pipe a nice hand feel and makes it very easy to use. You can quickly bring the straw-like mouthpiece up to your mouth while lighting the included 14mm cup bowl by lifting the Grav Mug by the handle. The large bubbler chamber gives your smoke plenty of room to cool, and the base makes it simple to set down on any flat surface without fear of knocking it over.
Highlights:
Premium Glass

4" Tall at the Top of the Mug

7" Tall at the Top of the Straw

14MM Female Joint

Come with a 14MM Cup Bowl

Features a Fixed Fission Downstem
9. Strawberry Coffee Cup Pipe($32.00)
Strawberries symbolize delicacy, love, pleasure, and passion. This Strawberry Coffee Cup Pipe is made of ceramic and holds approximately 18oz. It has a red body, a green handle, and green leaves on top, just like a real strawberry. The body has a scalloped shape that gives it a three-dimensional appearance. Each piece is hand-painted in a unique way. The mug has a pipe in the front where you can pack your tobacco and light it. The smoke filters up the hollow handle to the top mouthpiece, allowing you to smoke alongside your morning or evening coffee. Get the beach party started with this fun strawberry mug. 
Highlights:
Made of Ceramic

Holds Approx 18oz

Strawberry Shape

Microwave and Dishwasher Safe
10. Donuts Wake And Bake Mug($42.95)
Although you can't buy happiness, you can buy donuts. What could make you happier than that?
This Donuts Wake And Bake Mug makes everything better. The capacity is large enough to hold about 18 ounces of your favorite drink and comes with a built-in dry herb pipe for dual purposes. This innovative adult gift mug features a donut design in bold colors. Shaped like three tasty doughnuts smothered in sprinkles, it will take your enjoyment levels to a whole new high! When you light the herb packed in the bowl on the side of the mug, the incredible smoke filters up to the mouthpiece on the top of the handle. Purchase this piece for yourself and make your next session extra sweet.
Highlights:
Holds 16 oz

Made of Ceramic

Shaped Like a Stack of Donuts

Wake & Bake in Style

Double Walled, Keeps Drinks Warm
The Bottom Line
It's never easy to choose a bake mug both functional and beautiful, so we compiled a list of the top mug bongs to simplify your work. None of the options mentioned above will let you down. Treat yourself or gift a friend with a stunning pipe mug at once!